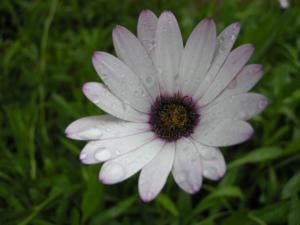 Osteospermum 'Cannington Roy' flower (11/06/2011, London)
Position: Flourishes in full sun to partial shade.
Soil: Moist and well drained.
Flowering period: Spring and summer.
Eventual Height: 50cm
Eventual Spread: 50cm
Hardiness: USDA Zone 9a-10a
Family: Asteraceae
Osteospermum 'Cannington Roy' is a deciduous perennial with a bushy habit. Its foliage is lanceolate , entire, alternate and bright green. The inflorescence is similar in form to the closely related Bellis perennis or Daisy, the flowers are composed of ray and disk florets ranging from pale pink to a deep purple.
Osteospermum is commonly known as the African, South African or Cape Daisy. The 'Cannington Roy' variety of this plant was created in the Cannington horticultural college in the United Kingdom.
Osteospermum is derived from the Greek osteon, meaning 'bone' and Latin spermum, meaning 'seed'.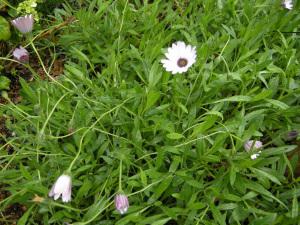 Osteospermum 'Cannington Roy' (11/06/2011, London)
The Landscape architect may find this plant useful as a fast growing weed suppressant ground cover that will continue to flower throughout the spring and summer. It is drought tolerant but during periods of severe drought the plant may become dormant and require a few seasons to come back into flower.
Ecologically this plant will attract pollinating insects such as butterflies and honey bees and the larvae of  some species of lepidoptera will feed on its foliage.
This plant will tolerate almost any soil conditions; it will be happy in acid, neutral or alkaline pH levels, in Chalk, Sand or Loam based soils in a sheltered or exposed location facing a southern or eastern aspect.
Maintenance: Requires no maintenance.