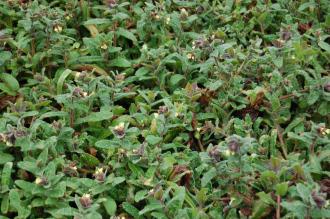 Nonea lutea (23/03/2013, Kew Gardens, London)
Position: Full sun
Flowering period: Late winter to early spring
Soil: Moist, well drained
Eventual Height: 20cm
Eventual Spread: 40cm
Hardiness: 6a, 6b, 7a, 7b, 8a, 8b, 9a, 9b, 10a
Family: Boraginaceae
Nonea lutea is an evergreen biennial. Its dark green leaves are lanceolate with entire margins, rough in texture, up to 6cm long and 2cm broad. Its yellow flowers are up to 12mm across, borne in the leaf axils and are similar to those of the Primrose. Its fruit are small nutlets.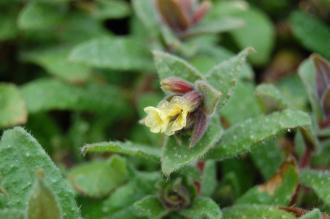 Nonea lutea Flower (23/03/2013, Kew Gardens, London)
Nonea lutea, commonly known as Yellow Monkswort or Yellow Nonea, is native to south west Asia. And south west Russia. This biennial readily self seeds.
The etymological root of the binomial name Nonea may be from the Latin meaning 'payment to the church by church tenants', reader feedback would be welcome. Lutea is from the Latin meaning 'yellow'.
The landscape architect may find Nonea lutea useful as part of a wildflower meadow mix.
Ecologically, Nonea lutea flowers are attractive to pollinating insects.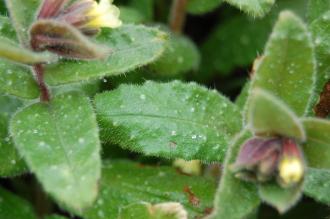 Nonea lutea Leaf (23/03/2013, Kew Gardens, London)
Nonea lutea prefers moist, fertile, well-drained soils. It tolerates most pH of soil.
Nonea lutea requires little maintenance. Unwanted seedlings should be removed.