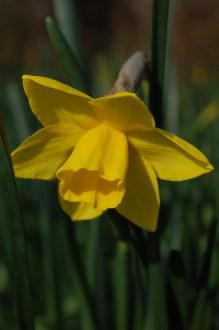 Narcissus 'Hawera' Flower (07/03/20112, Kew, London)
Position: Full sun to partial shade
Flowering period: Spring
Soil: Moist, well drained
Eventual Height: 30cm
Eventual Spread: 7cm
Hardiness: 4a – 10b
Family:  Amaryllidaceae
Narcissus 'Hawera' is a spring flowering perennial bulb. Its grey/ green leaves are basal or cauline, narrow in shape, with an often entire margin and are up to 25cm long. Its leaves emerge in early spring and persist until early summer, when they turn brown and wither. Its light yellow flowers appear in one or twos, are borne on slender, leafless stems, and are trumpet shaped. As this variety is sterile it will not produce seed.
The Narcissus genus, commonly known as the Daffodil, is native to Europe, north Africa and Asia. Narcissus 'Hawera', commonly known as Daffodil Hawera, is synonymous with Narcissus triandrus 'Hawera'.
The etymological root of the binomial name Narcissus is the classical Latin name for the species and it is derived from the original Greek. It is perhaps an allusion to perceived narcotic properties, meaning 'numb'. Other authorities believe it to be after Narcissus of Greek mythology, who stared at his own reflection so long in a pool of water he died of dehydration, the Narcissus plant was said to sprout from the spot where he died.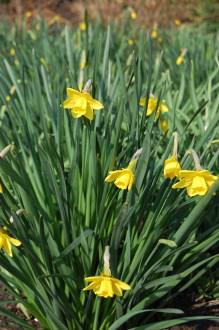 Narcissus 'Hawera' (07/03/20112, Kew, London)
The landscape architect may find Narcissus 'Hawera' useful for naturalising in areas of grass. They are unattractive deer.
Ecologically, N. 'Hawera' is of little value in the UK.
The Royal Horticultural Society has given N. 'Hawera' their prestigious Award of Garden Merit in 1995.
N. 'Hawera' prefers moist, fertile, well-drained soils. It tolerates most pH of soil.
N. 'Hawera' requires little maintenance. When naturalised in grass the leaves may be mown off once the leaves start to wither, usually early June.