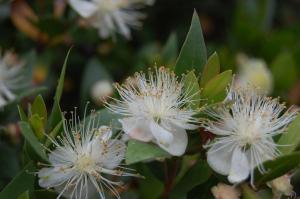 Myrtus communis flower (17/07/2011, Margate)
Position: Full sun
Soil: Moist, well drained soil
Flowering period: Summer
Eventual Height: 2.5m
Eventual Spread: 2.5m
Hardiness: USDA Zone 8a-11a
Family: Myrtaceae
Myrtus communis is an evergreen shrub with a bushy habit. Its foliage is aromatic, glossy and dark green in colour with an entire margin. The inflorescence is borne from mid spring to early summer in the form of star shaped, hermaphroditic, fragrant white flowers, with numerous white stamens. These flowers are followed by round blue-black fruits.
M. communis, known as the Common Myrtle, is native to a large area from southern Europe to western Asia. The essential oil of the plant was traditionally used to treat urinary infections and ingestion can quickly cause the urine to attain a violet like scent. Almost all parts of the plant have also been used to flavour foods, for example in Sardinia and Corsica an alcoholic beverage called Mirto is produced using the plant and  the fruits, flowers and leaves have been used to flavour condiments. M. communis has been cultivated as garden plant as far back as Roman times.
Myrtus  is the ancient Greek name of the plant, with communis being Latin, meaning 'communal' referring to the plants growing in groups or possibly to this being a common form.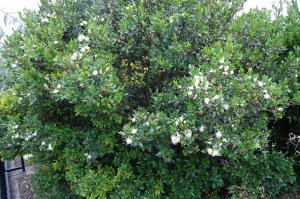 Myrtus communis (17/07/2011, Margate)
The landscape architect may use this plant as an evergreen low maintenance hedge in either a formal or flowering informal and style and it is tolerant of salty coastal conditions. Once established it is also drought tolerant.
The Royal Horticultural Society gave both Myrtus communis and Myrtus communis subsp. tarentina their prestigious Award of Garden Merit in 1993.
This plant will tolerate almost any soil conditions; it will be happy at neutral, alkaline or acid pH levels, in loam, sand, chalk or clay based soils in a south or west facing sheltered aspect. The RHS recommends that the plant be sheltered from cold dry winds and it may require a long hot summer to produce flowers and fruits, when being grown for this purpose it may be advisable to cultivate it under glass in a loam based soil.
Ecologically this plant will attract many pollinating insects, such as honey bees and butterflies. It will also attract birds with its fruit and the larval form of some species of lepidoptera will feed on its foliage.
Maintenance: This plant requires little to no maintenance. Dead or damaged material may be removed in early spring, before the first new growth appears.