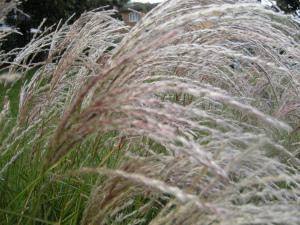 Miscanthus sinensis 'Yakushima Dwarf' flower (28/07/2011, London)
Position: Full sun
Soil: Moist, well drained soil
Flowering period: Late summer to autumn
Eventual Height: 80cm
Eventual Spread: 50cm
Hardiness: USDA Zone 5a-9b
Family: Poaceae
Miscanthus sinensis 'Yakushima Dwarf' is a deciduous, perennial grass with a clump forming habit. Its herbaceous foliage is formed from narrow, arching leaves. It may, depending on conditions, bear fan shaped panicles of awned, hairy, feathery, pale brown spikelets in mid autumn.
M. sinensis, commonly known as Chinese Silver Grass or Eulalia Grass, is native to much of eastern Asia including Korea, China and Japan. Research is currently being carried out in the United States and Great Britain into using this species for the production of bio-energy.
Miscanthus is derived from the Greek miskos meaning 'stem' and anthos meaning 'flower', referring to the stalked spikelets, with sinensis meaning 'of or from China'.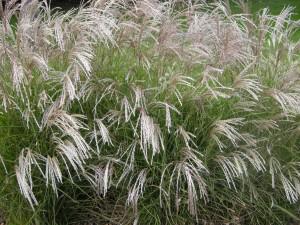 Miscanthus sinensis 'Yakushima Dwarf' (28/07/2011, London)
This plant may be useful to the landscape architect as a low maintenance, mid-size tall grass. It will make an exceptional impact when planted en-masse in windswept sites as its foliage sways in a breeze. It can also form a component of prairie style planting and is low enough to be suitable for planting under window sills.
This plant will tolerate almost any soil conditions; it will be happy at neutral, acid or alkaline pH levels, in loam, clay, chalk or sand based soils facing any sheltered or exposed aspect. It is also drought tolerant once established.
Ecologically this plant will attract various species of birds that will use it as cover from predators.
Maintenance: The residual winter leaves and flowering plumes may be cut down to ground level in late winter before the new foliage appears. When clumps of this grass become too large it may be propagated by division in spring.