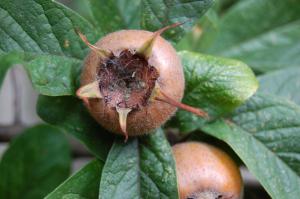 Mespilus germanica fruit (17/09/2011, London)
Position: Full sun to partial shade
Flowering period: Summer
Soil: Moist 
Eventual Height: 6m
Eventual Spread: 6m
Hardiness: USDA Zones 6a-9b
Family: Rosaceae 
Mespilus germanica, is a deciduous large shrub/ small tree with a bushy habit. It's leaves are  dark green turning red in in Autumn before they fall. They are elliptic, approximately 8-15 centimetres long and 3-4 centimetres wide. The hermaphrodite white flowers are produced in May and June, are 5 petalled and are 5 centimeters in width. The fruits is a pome, an accessor fruit composed of one or more carpels surrounded by accessory tissue. Wide spreading persistent sepals give the fruit a hollow appearance. 
M. germanica, commonly known as the the Common Medlar (Medlar is also the name of the fruit), is indigenous to southwest Asia and also southeastern Europe, mostly the Black Sea coasts of modern Turkey. It is a genus of two species of flowering plants, the second having only being discovered in 1990 in North America called Mespilus canescens. M. germanica may have been cultivated for as long as 3000 years. It was an important fruit plant during Roman and medieval time. It was commonly cultivated in England during the 1600′s and was particularly common in southern English gardens up to the 1800′s (as this plant prefers sunny locations and mild winters). It is now said to be increasing in rarity in England as well as Europe itself. The fruit need to be 'bletted' (softened by frost or a period off time in storage) before they can be eaten.
The name Mespilus is derived from the Greek Mesos meaning 'half' and Pilos meaning 'ball' in referaance to the shape of the fruit. Germanica is derived from the Latin meaning 'of Germany' (although it is not).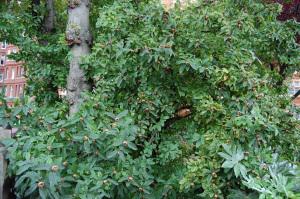 Mespilus germanica (17/09/2011, London)
The landscape architect may find this plant useful as an interesting fruiting specimen tree in a community or allotment garden.
Ecologically the flowers of this plant are attractive to bees. It is also generally attractive to caterpillars and aphids. 
This plant prefers a dry soil. It will tolerate most soil pH but preferres slightly acidic.
Maintenance: This plant requires little maintenance. It should not be pruned to hard.