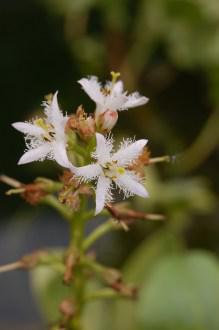 Menyanthes trifoliata Flower (05/05/2012, Kew, London)
Position: Full sun
Flowering period: Late spring to early summer
Soil: Wet, water depth 15-30cm
Eventual Height: 30cm
Eventual Spread: Indefinite
Hardiness: 4a – 9b
Family: Menyanthaceae
Menyanthes trifoliata is an aquatic, rhizomatous perennial. Its mid green waxy leaves are alternate, trifoliate, composed of 3 broadly elliptic or ovate leaflets with entire margins, these are held upright just above the water. Its stems are long, fleshy and striated petioles. Its white flowers are star shaped with five fringed petals, arranged in erect racemes and are up to 2cm across. Its roots are horizontal floating rhizomes.
Menyanthes trifoliata, commonly known as Bogbean and Buckbean, is native to Asia, Europe (including the UK) and North America. In its native habitat it occurs in bogs and marshes. Menyanthes trifoliata is the only species in the Menyanthes genus.
The etymological root of the binomial name Menyanthes comes from the Greek word menyein meaning 'disclosing' and anthos meaning 'flower'. Trifoliata is derived from the Latin meaning 'three leaved'.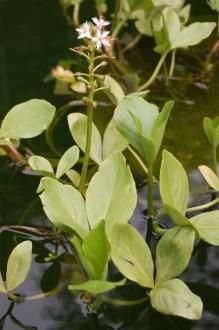 Menyanthes trifoliata (05/05/2012, Kew, London)
The landscape architect may find Menyanthes trifoliata useful as a marginal water plant at pond and lake edges.
Ecologically, M. trifoliata is attractive to bees and pollinating insects. It provides egg laying sites for adult dragonfly.
M. trifoliata prefers very wet, fertile soils. It tolerates most pH of soil. It should be planted in water at a depth of 15-30cm.
Menyanthes trifoliata requires little maintenance. Large clumps may be divided in summer.