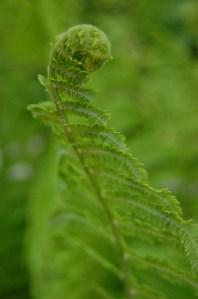 Matteuccia struthiopteris detail (28/05/2011, Vsetin)
Position: Flourishes in full to partial shade.
Soil: Moist and well drained.
Flowering period: Releases spores from prevoius seasons inner fronds in spring.
Eventual Height: 1m
Eventual Spread: 45cm
Hardiness: USDA Zone 2a-10b
Family: Onocleaceae
Matteuccia struthiopteris is a deciduous fern with a shuttlecock-like habit.it is stoloniferous and rhizomatous. its foliage is in the form of lance shaped, divided, erect, bipinnatifid fronds which are arranged in a rosette at the base of the plant. This fern is dimorphic with the outermost fronds being sterile and a bright green. The inner fronds are dense,dark brown and fertile. These are produced in autumn, releasing their spores in the following spring.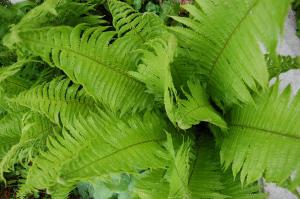 Matteuccia struthiopteris plan (28/05/2011, Vsetin)
M. struthiopteris also known as the Ostrich Fern or Shuttlecock Fern is native to most parts of the temperate nothern hemisphere, including North America, Europe and Asia.Although primarily grown ornimentally in Europe, the immature fronds are eaten in both North America and Japan.

Matteuccia was named after C. Matteucci, a 19th century Italian physicist. Struthiopteris being derived from the Latin meaning 'ostrich wing' in reference to a common name for this plant.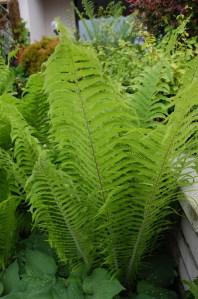 Matteuccia struthiopteris (28/05/2011, Vsetin)
The Landscape architect may find this plant useful is shady semi-dry conditions. It is suitable for planting in the woodland context. It may produce large colonies by spreading underground rhizomes and is useful on riverbanks which are prone to flooding.
This plant will tolerate many soil conditions; it will be happy in neutral or acid pH levels, in loam, sand or clay based soils and will prefere a sheltered location facing any aspect.
Ecologically this plant will attract many lepidoptera, whose larval form will feed on the plants foliage.
The Royal Horticultural Society have given it their prestigious Award of Garden Merit.
Maintenance: No maintenance required