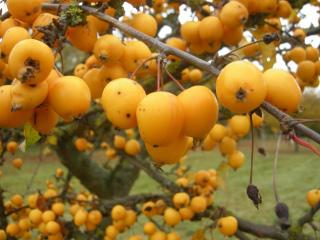 Malus 'Golden Hornet' fruit (Cambridge, 03/11/2011)
Position: Full sun to partial shade
Flowering period: Mid Spring
Soil: Well-drained, neutral to alkaline soil
Eventual Height: 10m
Eventual Spread: 8m
Hardiness: USDA Zones 4a – 8b
Family: Rosaceae
Malus x zumi 'Golden Hornet' is a small to medium sized deciduous tree with a broadly ovoid crown. It's leaves are mid to dark green, these turn yellow autumn. The  leaves are alternate, oval to ovate or elliptic, up to 9cm long and are mostly toothed. The flowers are fragrant, 2-5cm across, usually shallowly cup-shaped, pink-flushed white flowers, singly or in umbel-like corymbs, emerging from deep pink buds in late spring. These are followed by more or less spherical bright yellow-orange fruits which are up to 3cm across. These persist well after leaf drop into the winter months.  
Malus x zumi 'Golden Hornet' is commonly known as the Crab Apple or Crab Apple 'Golden Hornet'. M. 'Golden Hornet' will pollinate orchard apple trees. It was first produced by Waterer's Nursery in England in 1949
The etymology of the binomial name Malus is derived from the classical Latin name for the apple. Zumi is derived from a Japanese name, presumably referring to the origin of this tree.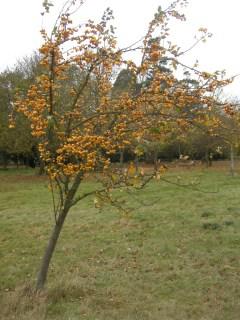 Malus 'Golden Hornet' (Cambridge, 03/11/2011)
The landscape architect may find Malus x zumi'Golden Hornet' useful as an attractive small specimen tree with interesting autumn leaf color and bright coloured fruit well into the winter months. It would be appropriate for an allotment or community garden as the flowers pollinate other apples and jelly can be made from the fruit.  It is tolerant of urban pollution and drought tolerant once established.
Ecologically, the flowers attract bees and fruits attract birds.
Malus x zumi 'Golden Hornet' has been awarded the prestigious Royal Horticultural Societies annual Award of Garden Merit in 1993.
Malus x zumi 'Golden Hornet' prefers a fertile, well-drained soil. It will tolerate most pH of soil.
Maintenance: This plant requires little maintenance. Pruning should be carried out  in late winter or early spring, removing damaged, wayward or crossing shoots.