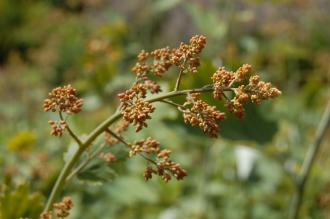 Macleaya cordata Flower Buds (30/06/2012, Kew Gardens, London)
Position: Full sun to partial shade
Flowering period: Summer
Soil: Moist, well drained
Eventual Height: 2m
Eventual Spread: 1m
Hardiness: 3a – 10b
Family: Papaveraceae
Macleaya cordata is a large, fast growing, upright deciduous herbaceous perennial. Its grey/ green leaves are orbicular, deeply lobed with dentate margins, up to 20cm long and 20cm broad. Its erect stems are grey/ green. Its buff white flowers appear en mass in terminal panicles. Its fruit. Its roots are rhizomes which aids its spread.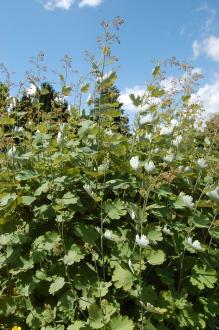 Macleaya cordata (30/06/2012, Kew Gardens, London)
Macleaya cordata, commonly known as Plume Poppy, is native to east China and Japan. In its native habitat it grows at woodland margins, within scrub, and lake and river sides. Macleaya cordata is synonymous with Bocconia cordata.
The etymological root of the binomial name Macleaya is named after Alexander Macleay (1767 – 1848), secretary to the Linnaean Society of London. Cordata is derived from the Latin meaning 'heart shaped'
The landscape architect may find  Macleaya cordata useful as a large architectural perennial plant, with bold foliage and erect stems.
Ecologically, M. cordata is attractive to pollinating insects.
The Royal Horticultural Society has given M. cordata their prestigious Award of Garden Merit in 1993.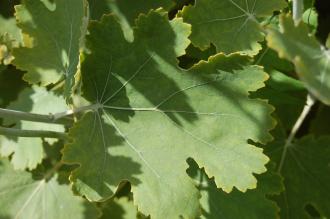 Macleaya cordata Leaf (30/06/2012, Kew Gardens, London)
M. cordata prefers moist, deep, fertile, well-drained soils. It tolerates most pH of soil.
Macleaya cordata requires little maintenance. Large clumps may be divided in spring.