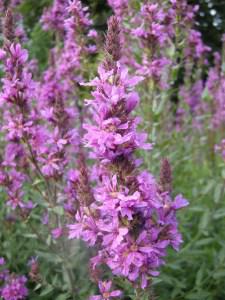 Lythrum salicaria flower (28/07/2011, London)
Position: Full sun to partial shade
Soil: moist soil
Flowering period: Summer
Eventual Height: 1m
Eventual Spread: 50cm
Hardiness: USDA Zone 3a-9b
Family: Lythraceae
Lythrum salicaria is a herbaceous perennial with a clump forming habit. Its foliage is lanceolate at the tip with a slightly chordate base and a mid green colour. In mid to late summer it bears spikes of hermaphroditic pink flowers with leaf like bracts.
L. salicaria, commonly known as Purple Loosestrife, is native to North Africa, western and southern Asia and Europe including the UK. It has also been naturalised throughout much of North America, displacing many native wetland species.
Lythrum is derived from the Greek meaning 'blood, with salicaria being a Latinised word meaning 'willow-like'.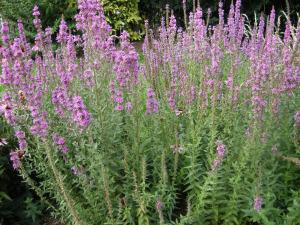 Lythrum salicaria (28/07/2011, London)
This plant may be useful to the landscape architect when creating a constructed wetland using native plants to attract wildlife. Care must be used when selecting plants to grow in competition as it self-seeds readily and may suppress other plants in the scheme and surrounding area.
The Royal Horticultural Society gave the cultivar Lythrum salicaria 'Feuerkerze' their prestigious Award of Garden Merit in 1993 and the cultivar Lythrum salicaria 'Blush' gained the award in 2002.
This plant will tolerate almost any soil conditions; it will be happy at acid, neutral or alkaline pH levels, in loam, clay, chalk or sand based soils, facing any exposed or sheltered aspect. It will require consistently moist soil and can be used in water planting.
Ecologically this plant will attract many species of pollinating insects such as honey bees and butterflies. Various species of weevil have also created associations with this plant.
Maintenance: This plant requires little to no maintenance. The flowers may be removed before they go to seed as it self-seeds regularly.