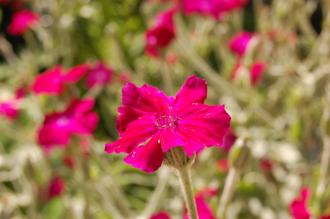 Lychnis coronaria Flower (24/06/2012, London)
Position: Full sun to partial shade
Flowering period: Summer
Soil: Moist, well drained
Eventual Height: 80cm
Eventual Spread: 50cm
Hardiness: 3a – 9b
Family: Caryophyllaceae
Lychnis coronaria is a clump forming short lived perennial with an upright habit. Its grey/ silver leaves are lanceolate with entire margins, up to 8cm long and 2.5cm broad and have a wooly surface. Its purple flowers are up to 2cm across. Its fruit is a small capsule.
Lychnis coronaria, commonly known as Corn Rose, Dusty Miller, Mullein-pink, Rose Campion, Rose Cockle and Bloody William, is native to southern and central Europe and central Asia. Lychnis coronaria is synonymous with Silene coronaria and Agrostemma coronaria.
The etymological root of the binomial name Lychnis is derived from the Greeklychnos meaning 'a lamp', in reference to its historic use as a lamp wick.Coronaria is from the Latin meaning ' a woman who sells/ makes garlands'.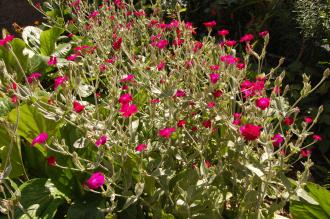 Lychnis coronaria (24/06/2012, London)
The landscape architect may find Lychnis coronariauseful as part of a mixed herbaceous planting scheme. It is also suitable in prairie type planting. It is drought tolerant once established. This plant will readily self seed.
Ecologically, Lychnis coronaria is attractive to pollinating insects.
The Royal Horticultural Society has given  Lychnis coronaria their prestigious Award of Garden Merit in 1998.
Lychnis coronaria prefers moist, fertile, well-drained soils. It tolerates most pH of soil. It will not tolerate waterlogged soils.
Lychnis coronaria requires little maintenance.