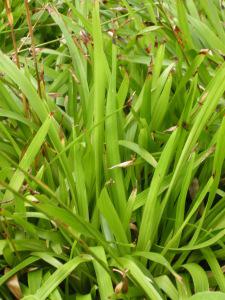 Luzula sylvatica detail (09/06/2011, London)
Position: Flourishes in full to partial shade.
Soil: Moist and well drained.
Flowering period: Mid spring to early summer
Eventual Height: 80cm
Eventual Spread:  45cm
Hardiness: USDA Zone 4a-9b
Family: Juncaceae
Luzula sylvatica is an evergreen perennial with a densely tufted, tussock forming habit. Its foliage is linear, channelled, glossy and dark green. Groups of chestnut-brown flowers are produced in open panicles from mid spring to early summer.
L. sylvatica, commonly known as the Greater Wood Rush, is native to eastern Asia and Europe including England. Its native habitat is damp, acidic, shaded lowland woods, commonly besides streams. Also peaty heath moors and rocky stream sides in mountainous regions.
Luzula was Latinised from the Italian vernacular name 'lucciola' for this plant, with sylvatica being derived from the Latin meaning 'of the woods'.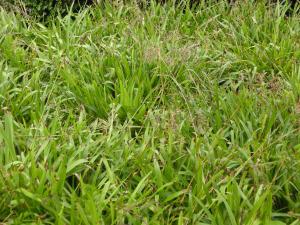 Luzula sylvatica (09/06/2011, London)
This plant may be useful to the landscape architect as a maintenance free, evergreen, drought tolerant ground cover perennial. It will spread vigorously by rhizomes to create a weed suppressing ground cover.
This plant will tolerate almost any soil conditions; it will be happy in acid, neutral or alkaline pH levels, in loam, sand, chalk or clay based soils in a sheltered or exposed location facing any aspect.
Ecologically this plant will attract the larvae of some species of Lepidoptera, which will feed on its foliage.
Maintenance: Requires no maintenance.