Position: Flourishes in full to partial shade.
Soil: Moist well drained soil.
Flowering period: Early to mid summer.
Eventual Height: 60cm
Eventual Spread: 45cm
Hardiness: USDA Zone 4a-9b
Family: Juncaceae
Luzula nivea is an evergreen perennial grass with a spreading habit that forms loose clumps of foliage. Its leaves are flat, linear and deep green, with the basal leaves being longer. In early and mid summer it bears short, lax panicles composed of shiny, pure white flowers in clusters of up to twenty.
 A native to central Europe L. nivea or The Snowy Woodrush has been traditionally used for its flowers which were dried and displayed for their ornamental value due to its long lasting properties.
Luzula is the Latinised form of the Italian vernacular name 'lucciola', with nivea being derived from the Latin niveum meaning 'snowy'.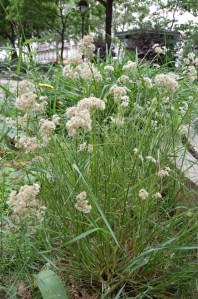 Luzula nivea (16/05/2011, Paris)
The landscape architect may find this plant useful as a low maintenance specimen for difficult shaded locations.
This plant will tolerate almost any soil conditions; it will be happy in acid, neutral or alkaline pH levels, in loam, sand, clay or chalk in a sheltered or exposed location facing any aspect.
Ecologically the foliage of this plant is used for food by the larvae of some Lepidoptera species as well as members of the genus Coleophora.
Maintenance: Requires no maintenance, if the clumps become too large they may be split in spring.