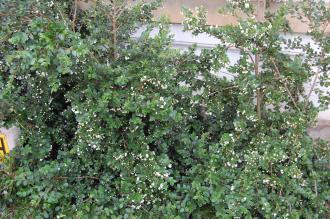 Luma apiculata (27/07/2013, Kew Gardens, London)
Position: Full sun to light shade
Flowering period: Summer
Soil: Moist, well drained
Eventual Height: 10m
Eventual Spread: 10m
Hardiness: 9a, 9b, 10a, 10b, 11
Family: Myrtaceae
Luma apiculata is a long lived, evergreen large shrub or small tree. Its dark green leathery leaves are broadly ovate with entire margins and a pointed tip, up to 25mm long, 15mm broad and fragrant. Its trunk may achieve a diameter of up to 60cm. Its cinnamon/ cream bark is evident on older branches and peels off in strips. Its white flowers are up to 2cm across. Its fruit is a purple/ black berry, up to 1cm across and appear in autumn.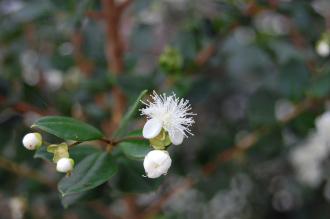 Luma apiculata Flower (27/07/2013, Kew Gardens, London)
Luma apiculata, commonly known as Luma, Chilean Myrtle, Temu or Palo Colorado, is native to the central Andes, between Chile and Argentina. In its native habitat it grows in temperate rain forests. Luma apiculata is synonymous with Myrtus apiculata  and Myrtus luma.
The etymological root of the binomial name Luma is from the vernacular Chilean name for this plant. Apiculata is derived from the Latin apicatus meaning 'a ceremonial pointed cap' in reference to the pointed tip of the leaf.
The landscape architect may find Luma apiculata useful as an evergreen formal hedging plant. it ay also be grown as an attractive small flowering tree. Once established this shrub is drought tolerant.
Ecologically, Luma apiculata are attractive to nectar loving insects.
The Royal Horticultural Society has given Luma apiculata their prestigious Award of Garden Merit in 1993.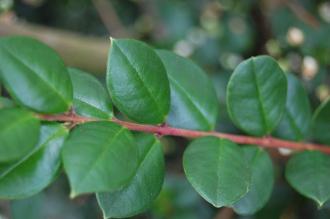 Luma apiculata Leaf (27/07/2013, Kew Gardens, London)
Luma apiculata prefers moist, fertile, well-drained soils. It tolerates most pH of soil.
Luma apiculata requires little maintenance.