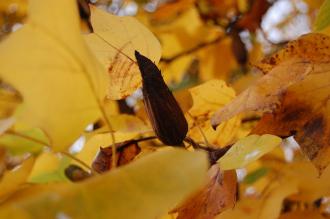 Liriodendron tulipifera detail (12/11/2011, Kew, London)
Position: Full Sun
Flowering period: Summer
Soil: Moist, well-drained
Eventual Height: 40m 
Eventual Spread: 12m
Hardiness: USDA Zones 5a – 9b
Family: Magnoliaceae
Liriodendron tulipifera is a fast growing, large, deciduous tree with an ovate to pyramidal growth habit which becomes more irregular when it gets older. The bright green leaves of the tree are up to 20cm long and wide, alternate, simple, pinnately veined and have  long petioles of up to 10cm. In autumn they turn bright yellow. The bark is gray with fine stripes of light gray in the furrows. The hermaphrodite flowers are pale green with an orange band at their base, up to 8cm long, tulip shaped and upright. They are borne singly at branch ends. The fruit is a cone shaped aggregate fruit, that changes from green to tan brown in October. It is formed from many samara like carpels.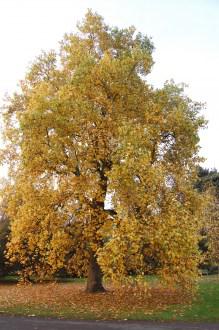 Liriodendron tulipifera autumn(12/11/2011, Kew, London)
Liriodendron tulipifera, commonly known as the Tulip Tree, Tulip Magnolia, Tulip Poplar and Yellow Poplar, is native to the eastern United States. It was introduced into the UK in the late 1688. The tulip tree is the state tree of Indiana, Kentucky and Tennessee.
The etymological root of the binomial name Liriodendron is derived from the Greek lirion 'Lily' and the Latin dendron 'tree'. Tulipifera is derived from tulipa (a Latinised version of the Turkish tubend) and fera 'wild'.
Liriodendron tulipifera may be useful to the landscape architect as an interesting specimen or parkland tree due to it's impressive autumn colour, dramatic summer flower and size. It i tolerant of urban polution.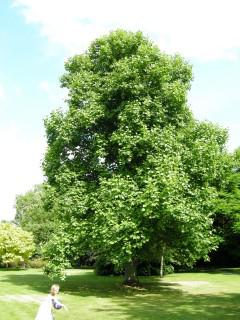 Liriodendron tulipifera (14/06/2009, London)
Ecologically, Liriodendron tulipifera is valuable as  it is attractive to bees. The flowers are pollinated by beetles.
L.tulipifera has been awarded the prestigious Royal Horticultural Societies annual Award of Garden Merit in 1993.
L. tulipifera prefers well drained, deep moist fertile soil. It will tolerate most soil pH levels. Avoid hot dry sites. It will not tolerate compacted soils which are prone to flooding or ponding.
Maintenance: This plant requires little maintenance.