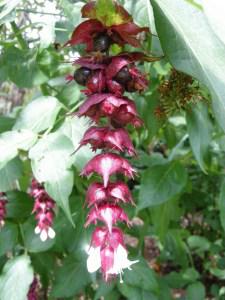 Leycesteria formosa fruit (10/07/2011, London)
Position: Full sun to partial shade
Soil: Moist, well drained soil
Flowering period: Summer to autumn
Eventual Height: 2m
Eventual Spread: 2m
Hardiness: USDA Zone 7a-9b
Family: Caprifoliaceae
Leycesteria formosa is a deciduous shrub with an upright habit. Its hollow stems are round and green and persist into the winter months. Its blue-green shoots bear ovate, dark green leaves with pointed tips and gently lobed margins. In summer and early autumn it bears small, monoecious, funnel shaped, white flowers at the tip of each cluster of purplish-red bracts and these are followed by spherical, reddish-purple fruits that will ripen a few at a time.
L. formosa, commonly known as Himalayan Honeysuckle and Pheasant Berry, is native to the Himalayas and south-western china. It has been in cultivation in the west since 1824 and some cultivated lines have sweet, chocolate flavoured fruit, with others being bitter and unpalatable. It is considered a noxious invasive species in, among other places, Australia, New Zealand, the neighbouring islands of Micronesia. Its hollow stems have also been used to create wind instruments such as flutes and whistles.
Leycesteria was named for William Leycester (1775-1831), a horticulturalist and magistrate in Bengal, India, with formosa meaning 'beautiful', derived from the Latin.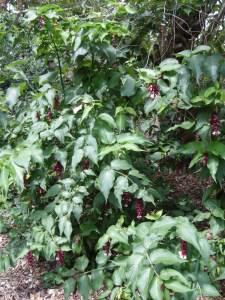 Leycesteria formosa (10/07/2011, London)
This plant may be useful to the landscape architect for its tolerance of drought and salty coastal locations and also for its low maintenance and frost tolerance. As its common name, Pheasant Berry, suggests this plant may be used a part of a plant mix to provide cover and food for Pheasant in rural locations.
The Royal Horticultural Society gave it their prestigious Award of Garden merit in 2002.
This plant will tolerate almost any soil conditions; it will be happy at neutral, acid or alkaline pH levels, in loam, clay, chalk or sand based soils facing any sheltered aspect.
Ecologically this plant will attract pollinating insects such as butterflies and honey bees and birds or other animals may feed on its fruit, however; as this plant is not native to this continent these associations may not be prolific.
Maintenance: This plant requires little maintenance. It may be pruned after flowering to encourage new growth and prolong the life of the plant. Weak shoots may be cut back to the ground in spring to encourage more fruit. This plant may be propagated by division from March to May or by seed sewn in September to November.