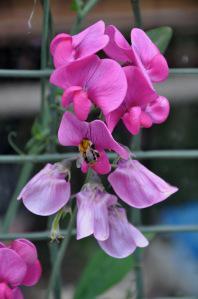 Lathyrus latifolius flower (27/07/2011, London)
Position: Full sun to partial shade
Soil: well drained soil
Flowering period: Summer and autumn
Eventual Height: 2m
Eventual Spread: N/A
Hardiness: USDA Zone 5a-9b
Family: Fabaceae
Lathyrus latifolius is a herbaceous perennial with a climbing habit. Its winged stems bear tendrils to aid its climbing habit and its foliage is composed of pinnate, ovate leaves with simple margins. In summer and early autumn it bears small racemes, composed of pink to purple flowers which are followed by hairless, flat green pea like seed pods.
L. latifolius, commonly known as the Everlasting Pea or Perennial Pea, is native to most of southern Europe but has been naturalised in the UK. Some members of the genus are eaten such as the common garden pea, many contain a highly poisonous neurotoxin known to cause lathyrism, therefore garden varieties grown for their flowers and peas found in the wild should not be eaten. This plant is not as strongly scented as its close relative the annual Lathyrus odoratus or Sweet Pea.
Lathyrus is derived from the Greek lathyros, meaning 'pea' or 'pulse', with latifolius being derived from the Latin latus meaning 'wide' and folium meaning 'leaf'.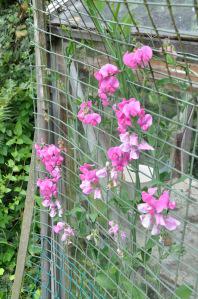 Lathyrus latifolius (27/07/2011, London)
The landscape architect may find this plant useful as a drought tolerance, late blooming climbing plant. It may also be allowed to scramble over difficult spots such as banks and slopes.
The Royal Horticultural Society gave this species and the cultivar Lathyrus latifolius 'White Pearl' their prestigious Award of Garden Merit in 1993 and the cultivars Lathyrus latifolius 'Albus' and 'White Pearl' received it in 1998.
This plant will tolerate almost any soil conditions; it will be happy at acid, neutral or alkaline pH levels, in loam, clay, chalk or sand based soils, preferring a west or south facing exposed or sheltered aspect.
Ecologically this plant will attract many species of pollinating insects such as honey bees and butterflies.
Maintenance: This plant requires little to no maintenance. It may be cut back to the ground level in autumn.