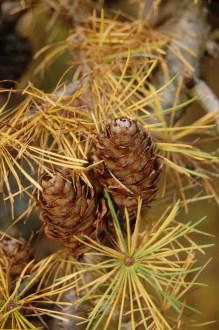 Larix decidua cone (12/11/2011, Kew, London)
Position: Full Sun 
Flowering period: Winter to Spring
Soil: Moist, well-drained
Eventual Height: 40m 
Eventual Spread: 12m
Hardiness: USDA Zones 3a – 7b
Family: Pinaceae
Larix decidua is a fast growing, large, deciduous, coniferous tree with a conical, pendulous growth habit. The leaves of the plant are needle like, light green, 2 – 4 centimeters long . They are bright green when they appear in spring and turn yellow before they fall in the autumn.  The are more delicate than most other conifers and have a waxy coating. The branches of the tree are level to upswept, with the side branches often being slim, pendulous and flexible. The mature trunk of this tree can achieve a diameter of 1m. This tree is monoecious with the female flowers being red and the male being yellow. The male flowers produce huge amounts of pollen in early spring. The cones produced are erect , ovoid to conical in appearance. They are 2 – 6 centimeters long, with 30 – 70 erect or slightly incurved seed scales. They are green, turning brown and opening to release the seeds 4 – 6 months after pollination. Old cones often remain on the tree.
Larix decidua, commonly known as the European Larch, is native to the mountains of Central Europe. It was introduced into the UK in the 17th century as an ornamental tree.  The wood of the tree is notably flexible and has been cultivated since 1620 for boat building. This tree was classified by English horticulturist Philip Miller in the early 18th Century. L. decidua is considered to be an invasive species in New Zealand.
The etymological root of the binomial name Larix is derived from the old Latin name for 'Larch'. Decidua is derived from the Latin meaning 'deciduous'.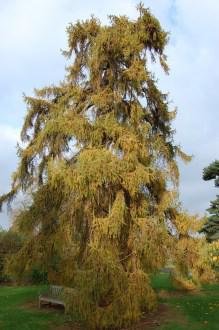 Larix decidua (12/11/2011, Kew, London)
The landscape architect may find Larix decidua useful for an ornamental specimen tree for park planting. It is also a suitable species for inclusion in a woodland planting scheme.  It will not grow in shade.
L. decidua is ecologically valuable as  it's seeds provides food for some birds. The European larch needles are the only known food for caterpillars of the Case Bearer Moth. It's cone scales are food for the caterpillars of the Tortix Moth.
L. decidua  has been awarded the prestigious Royal Horticultural Societies annual Award of Garden Merit in 1993.
L. decidua prefers well drained, moist soils. It will tolerate most soil pH levels. It will not tolerate waterlogged or chalky soils.
Maintenance: This plant requires little maintenance.