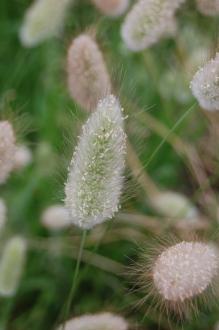 Lagurus ovatus Flower (28/07/2012, Kew Gardens, London)
Position: Full sun
Flowering period: Summer
Soil: Moist, well drained
Eventual Height: 60cm
Eventual Spread: 30cm
Hardiness: 4a – 10a
Family: Poaceae
Lagurus ovatus is a deciduous annual, erect, clump forming grass. Its light green leave blades are lanceolate and softly pubescent, up to 20cm long and 14mm wide. Its white/ green flowers are arranged in fury panicles, are up to 7cm long and 2cm broad and found at the ends of erect stems. Its flowers mature to a pale brown in autumn.
Lagurus ovatus, commonly known as Hare's Tail Grass, Bunnies' Tails, Turk's Head Grass or Rabbit's Tail Grass, is native to the Mediterranean region.
The etymological root of the binomial name Lagurus is derived from the Greeklagos meaning 'a hare' and oura meaning 'a tail', in reference to the shape of its flowers. Ovatus is derived from the Latin ovare 'to lay eggs', in reference to the seed heads.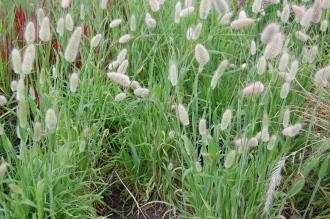 Lagurus ovatus (28/07/2012, Kew Gardens, London)
The landscape architect may findLagurus ovatus useful as a component of a prairie type planting scheme. This grass will readily self seed. Once established this plant is drought tolerant.
Ecologically, L. ovatus seeds are attractive to birds.
The Royal Horticultural Society has given L. ovatus their prestigious Award of Garden Merit in 1995.
L. ovatus prefers moist, well-drained soils. It tolerates most pH of soil. It prefers a sandy soil.
Lagurus ovatus requires little maintenance.