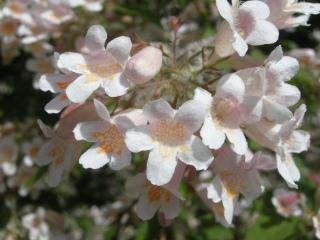 Kolkwitzia amabilis Flower (18/05/2012, Prague, Czech Republic)
Position: Full sun to partial shade
Flowering period: Late spring
Soil: Moist, well drained
Eventual Height: 2.5m
Eventual Spread: 3m
Hardiness: 4a – 9a
Family: Caprifoliaceae
Kolkwitzia amabilis is a large deciduous rounded shrub with arching stems. Its mid green leaves are ovate with mostly entire margins, opposite and up to 75mm long. Its bark is light brown and flaking. Its pale pink flowers are bell shaped, up to 25mm long, and have distinctive speckled spot in their throat. These appear on second year stems. Its fruit is a hairy ovoid capsule which is up to 6mm long.
Kolkwitzia amabilis, commonly known as the Beauty Bush or Spindle Bush, is native to central China. In its native habitat it is found in scrubby thickets on mountain slopes. It is rare in the wild bust common in cultivation.
The etymological root of the binomial name Kolkwitzia is named after Richard Kolkwitz (1873 – 1956), professor of botany in Berlin. Amabilis is from the Latin meaning 'loveable'.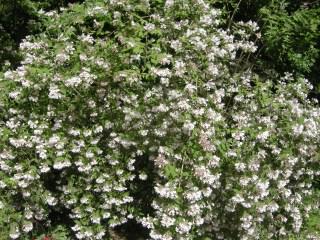 Kolkwitzia amabilis (18/05/2012, Prague, Czech Republic)
The landscape architect may find  Kolkwitzia amabilis useful as a free flowering medium/ large deciduous shrub.
Ecologically, K. amabilis is attractive to bees and pollinating insects.
The Royal Horticultural Society has given the variety K. amabilis 'Pink Cloud' their prestigious Award of Garden Merit in 1993.
K. amabilis prefers moist, fertile, well-drained soils. It tolerates most pH of soil.
Kolkwitzia amabilis  requires little maintenance. Ideally it should not be pruned to develop its attractive natural habit. Occasionally, entire old stems may be removed to the base during the dormant period.