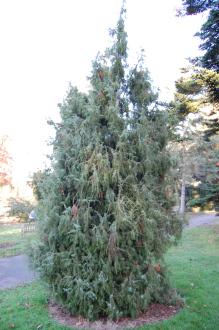 Juniperus communis (18/11/2012, Kew Gardens, London)
Position: Full sun to partial shade
Flowering period: Late spring to early summer
Soil: Moist, well drained
Eventual Height: 2 – 10m
Eventual Spread: 4 -8m
Hardiness: 2b – 8b
Family: Cupressaceae
Juniperus communis is a slow growing, evergreen shrub/ tree that produces a specimen of variable shape, from spreading to erect. Its dark green leaves are sharply pointed, appearing in whorls of three and are up to 1cm long. The dioecious flowers of the plant are inconspicuous, wind pollinated and are not self fertile. The female seed cones are berry like, up to 6mm across, are initially  green in color ripening to a purple/ blue within 18 months. The male pollen cones are up to 3mm across and yellow color.
Juniperus communis, commonly known as Common Juniper, is native to most of Europe (including the UK), northern Asia and north North America. Traditionally the berries/ cones a number of beers and spirits, including Gin.
The etymological root of the binomial name Juniperus is derived from the old Latin name for the Juniper tree. Communis is from the Latin, meaning 'communal' referring to the plants growing in groups or possibly to this being a common form.

The landscape architect may find Juniperus communis useful as a component of a native woodland planting scheme or wildlife garden. This tree is tolerant of maritime exposure.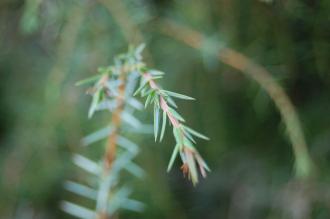 Juniperus communis Leaf (18/11/2012, Kew Gardens, London)
Ecologically, Juniperus communis berries/ cones are attractive to some birds.

Juniperus communis prefers moist, fertile, well-drained soils. It tolerates most pH of soil. It will not tolerate wet soils.
Juniperus communis requires little maintenance.