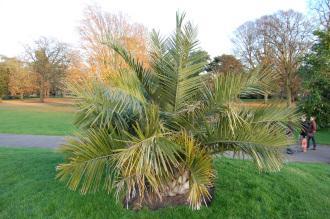 Jubaea chilensis (18/11/2012, Kew Gardens, London)
Position: Full sun
Flowering period: Early spring
Soil: Moist, well drained
Eventual Height: 25m
Eventual Spread: 5m
Hardiness: 8a – 10b
Family: Arecaceae
Jubaea chilensis is a slow growing, tall upright evergreen palm tree. Its dark green/ grey leaves are pinnate and may achieve a length of 5m when mature. Its trunk may achieve a diameter of 1.3m. With age the leaf stems detach from the trunk giving this palm a clean trunk. Its purple monoecious flowers are bourne on 1.2m long flower stalks, appearing from the leaf axils. Its fruit are spherical, similar to a small coconut, up to 1cm in diameter, with a yellow/ brown casing.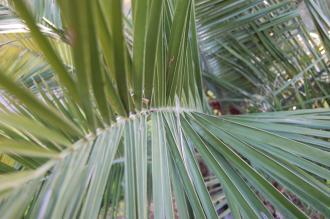 Jubaea chilensis Leaf (18/11/2012, Kew Gardens, London)
Jubaea chilensis, commonly known as  the Chilean Wine Palm, Coquito Palm or Coquito de Chile, is native to Chile. The name Chilian Wine Palm refers to it use as the basis for a fermented drink. Jubaea chilensis is classified as Vulnerable according to the IUCN Red List of Threatened Species.

The etymological root of the binomial name Jubaea is named after King Juba II (52BC – AD23), a keen botanist. Chilensis is derived from the Latin meaning 'from Chile'.

The landscape architect may find Jubaea chilensis useful a a frost hardy palm tree. It should be noted that it dislikes excessive moisture in its crown. Once established this palm is drought tolerant.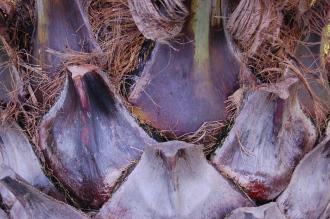 Jubaea chilensis Trunk (18/11/2012, Kew Gardens, London)
Ecologically, Jubaea chilensis fruit are attractive to some mammals.

Jubaea chilensis prefers moist, fertile, well-drained soils. It tolerates most pH of soil.
Jubaea chilensis requires little maintenance.