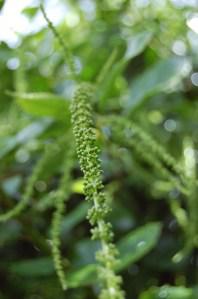 Itea ilicifolia flower buds (18/06/2011, London)
Position: Flourishes in full sun to partial shade.
Soil: Moist and well drained.
Flowering period: Summer and autumn.
Eventual Height: 4m
Eventual Spread: 2.5m
Hardiness: USDA Zone 4a-9b
Family: Iteaceae
Itea ilicifolia is an evergreen shrub with an arching habit. Its leaves are glossy, sharply toothed and dark green in colour. In late summer and early autumn it bears monoecious, catkin-like racemes of small greenish fragrant flowers.
I. Ilicifolia is commonly known as holly-leaved sweet spire and is native to western China. It was introduced by Augustine Henry from Yichang on the Yangtze in central China and was presented to Lord Kesteven who flowered it first in 1895.
Itea is derived from the ancient Greek name for the Willow plant. Ilicifolia being a Latinised word alluding to its foliage being similar in appearance to that of the members of the Ilex genus.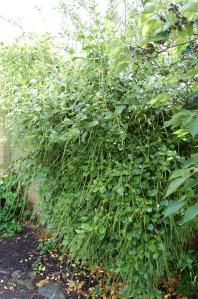 Itea ilicifolia (18/06/2011, London)
This plant may be useful to the landscape architect in erosion control  plant. It also forms an attractive informal hedge.
This plant will tolerate almost any soil conditions; it will be happy in neutral, acid or alkaline pH levels, in loam, clay, chalk or sand based soils but will prefer a west or south facing aspect in a sheltered location.
Ecologically this plant will attract pollinating insects such as butterflies and honey bees and although it is not native to this continent it will cater to a wide range of insects.
Maintenance: this plant requires little to no maintenance. Dead or damaged material may be removed in mid spring.