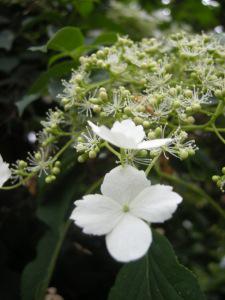 Hydrangea petiolaris flower (07/05/2011, London)
Position: Flourishes in full sun to dappled shade.
Soil: Moist but well drained.
Flowering period: Mid summer.
Eventual Height: 15m
Eventual Spread: indefinite
Hardiness: USDA Zone 4a-7b
Family: Hydrangeaceae
Hydrangea petiolaris is a deciduous self clinging climber (via aerial roots) with vigouras woody shoots. It has dark green; ovate to rounded leaves with heart shaped bases which yellow in autumn. In summer domed corymbs composed of white and occasionally sterile flowers appear.
Native to parts of Russia, Korea, Taiwan and Japan, H. petiolaris is also known as H. anomala subsp. petiolaris.
Hydrangea is derived from the Greek hydor meaning 'water' and aggeion meaning 'a vessel or vase' with petiolaris alluding to its long petioles (the stalk that joins a leaf to the stem).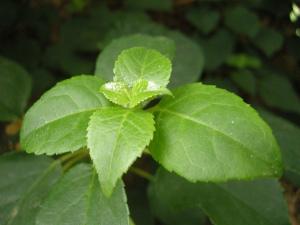 Hydrangea petiolaris leaf (07/05/2011, London)
This plant is usefull to the landscape architect as a self clinging climber, particularly in more shady areas, which provides white flowers during late spring to early summer.
This plant will tolerate heavy clay soils but will not take to exposed locations and will prefer shade to a sunny location.
Ecologically this plant will attract pollinating insects such as bees that will feed on its nectar.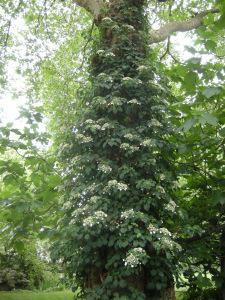 Hydrangea petiolaris (07/05/2011, London)
The Royal Horticultural Society have given it their prestigious Award of Garden Merit.
Maintenance:  This plant may have its overlong shoots cut back immediately after flowering. Pruning should be kept to a minimum towards the top of the plant as this is where the majority of flowers will be produced. Established plants can withstand hard pruning, however, flowering will be reduced for a few years. Drastic pruning should be staggered over three to four years so as to not reduce the inflorescence too much.