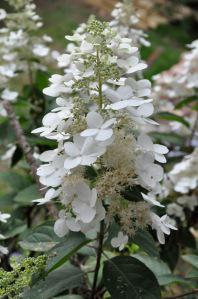 Hydrangea paniculata 'Grandiflora' flower (27/07/2011, London)
Position: Full sun to partial shade
Soil: well drained soil
Flowering period: Summer
Eventual Height: 3m
Eventual Spread: 3m
Hardiness: USDA Zone 3a-9b
Family: Hydrangeaceae
Hydrangea paniculata 'Grandiflora' is a deciduous shrub with a upright, open habit. Its foliage is dark green, composed of large, ovate leaves with a serrate margin. Its inflorescence is in the form of large, dense, conical panicles, composed of mostly sterile, small white flowers which turn pink or red in late summer persisting on the plant into autumn.
H. paniculata is native to eastern Asia and was first described in western botany by Philipp Franz von Siebold in 1829. It was traditionally used to produce paper using its bark and its hard, white wood was used for many small items, even as nails.
Hydrangea is derived from the Greek hydro meaning 'water' and aggos meaning  'jar', in reference to shape of the fruit, with paniculata being a Latinised word referring to the inflorescence taking the form of panicles. Grandiflora is derived from the Latin meaning large florets.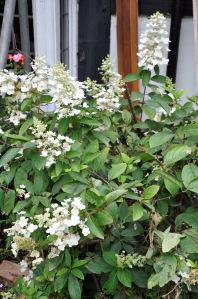 Hydrangea paniculata 'Grandiflora' (27/07/2011, London)
The landscape architect may find this plant useful as a deciduous late flowering shrub which is tolerant of dappled shade.
The Royal Horticultural Society gave this plant their prestigious Award of Garden Merit in 1993.
This plant will tolerate almost any soil conditions; it will be happy at neutral or alkaline pH levels, in loam, clay or sand based soils, facing any exposed or sheltered aspect.
Ecologically this plant will attract many species of pollinating insects such as honey bees and butterflies.
Maintenance: This plant requires little to no maintenance. Dead or damaged material may be removed in late winter or early spring.
Eco World Content From Across The Internet.

Featured on EcoPressed
Strategies for buying sustainable seafood
Advertisement
LinkedIn

Twitter

Facebook

More
StumbleUpon

Print

Digg

Reddit

Email