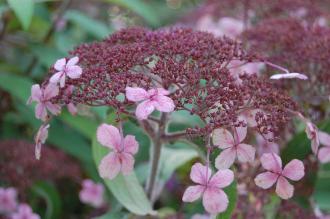 Hydrangea aspera Flower (08/09/2012, Kew Gardens, London)
Position: Full sun to light shade
Flowering period: Late summer to early autumn
Soil: Moist, well drained
Eventual Height: 3m
Eventual Spread: 2.5m
Hardiness: 7a – 9b
Family: Hydrangeaceae
Hydrangea aspera is a deciduous, erect, bushy shrub. Its dark green leaves have a hairy upper surface, are lanceolate with entire margins, up to 25cm long and 8cm broad. Its hermaphrodite white to pale pink flowers appear in corymbs which are up to 25cm across.
Hydrangea aspera, commonly known as the Rough Leaved Hydrangea, is native to southern China. In its native habitat it grows on mountain slopes in forests and thickets.
The etymological root of the binomial name Hydrangea is derived from the Greek hydor meaning 'water' and aggos meaning 'jar' which refers to the plants cusp shaped fruit. Aspera is from the Latin meaning 'jagged', in reference to the surface texture of the leaf.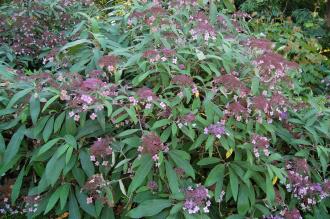 Hydrangea aspera (08/09/2012, Kew Gardens, London)
The landscape architect may find Hydrangea aspera useful for woodland edge plant, and will tolerate the dryer conditions within the root spread of trees.
Ecologically, Hydrangea aspera is of little value to UK wildlife.
The Royal Horticultural Society has given a number Hydrangea aspera varieties their prestigious Award of Garden Merit.
Hydrangea aspera prefers moist, humus rich, well-drained soils. It tolerates most pH of soil.
Hydrangea aspera requires little maintenance.