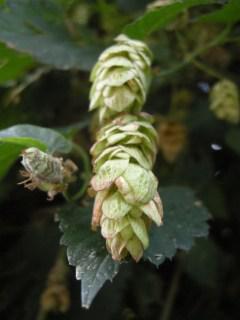 Humulus lupulus flower (10/11/2011, London)
Position: Full Sun to Partial Shade
Flowering period: Summer
Soil: Well-drained
Eventual Height: 5m
Eventual Spread: 2.5m
Hardiness: USDA Zones 4a – 8b
Family: Cannabaceae
Humulus lupulus is a native perennial herbaceous climbing plant which is technically know as a bine. It sends up new shoots each spring and dies back to the perennial rhizome in late autumn. The mid green leaves of this plant are opposite mostly 3-5 lobed, heart shaped, 15cm across and coarsely toothed at their edges. The plant climbs by wrapping itself clockwise around any support, the stem of this plant contains stout hooked hairs which aid its climbing ability. The male and female flowers appear on separate plants i.e. dioecious. Only the female plant produces hops in the form of cone like catkins, these are between 5 – 12 centimetres long, these turn light brown with age. The male flowers are borne in loose panicles.
Humulus lupulus,commonly known as the Common Hop, is native to the temperate Northern Hemisphere. The first documented instance of Hop cultivation was in 736, in the Hallertau region of present day Germany, although it is believed hops were cultivated in Babylon in 200AD. In Britain, hopped beer was first imported from Holland around 1400. By 1500 hopped beer had become universal in north-west Europe. In the wild it is found in shaded thickets, wooded slopes, hedgerows and along railroads. 
The etymological root of the binomial name Humulus is a Latin name of uncertain origin. It may have come from the low German word 'humela' for hop. Lupulus is derived from the Latin being the name given to this plant.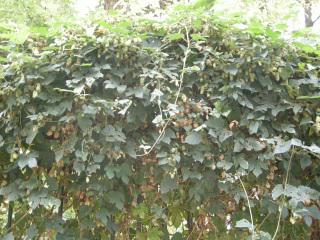 Humulus lupulus (10/11/2011, London)
The landscape architect may this plant as a useful as a native perennial climber with attractive foliage and makes a good screening plant. It is also suitable for a wildlife garden due to its native provenance. It is tolerant of urban conditions. Care should be taken when locating this plant as its stem is abrasive when rubbed in one direction and may cut.
Ecologically it is attractive to butterflies, birds and small mammals.
The variety Humulus lupulus 'Aureus' won the RHS annual AGM award of Garden Merit in 1993.
H. lupulus prefers a fertile, well-drained soil. It will tolerate most soil pH.
Maintenance: This plant requires little maintenance. This plant may be cut back to ground level each spring to ensure fresh new growth.