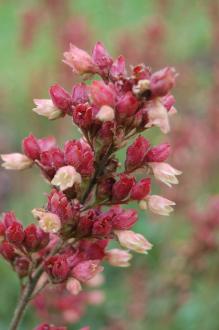 Heuchera cylindrica Flower (30/06/2012, Kew Gardens, London)
osition: Full sun to partial shade
Flowering period: Summer
Soil: Moist, well drained
Eventual Height: 90cm
Eventual Spread: 50cm
Hardiness: 4a – 9a
Family: Saxifragaceae
Heuchera cylindrica is a semi-evergreen, low growing, spreading herbaceous perennial. Its mid green leaves are rounded with up to  7 shallow lobes and dentate margins. Its flowers are cream/ yellow often tinged with red, its sepals are sometimes red (as illustrated in the adjacent image), bell shaped and are  arranged in dense terminal clusters. Its fruit is a small capsule.
Heuchera cylindrica, commonly known as Roundleaf Alumroot or Coral Flower, is native to the west of the United States. In its native habitat it grows on rocky slopes, grassland and open forests. This plan has a history of medical use by some groups of Native Americans.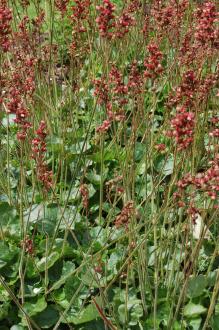 Heuchera cylindrica (30/06/2012, Kew Gardens, London)
The etymological root of the binomial name Heuchera was named for Johann Heinrich von Heucher, the 18th century professor of medicine and botanist at Wittenberg, Germany. Cylindrica is from the Latin meaning 'cylindrical, in reference to the the shape of the leaf.
The landscape architect may find Heuchera cylindrica useful as a low growing ground cover, particularly in dappled shade locations. Once established this plant is drought tolerant.
Ecologically, H. cylindrica is attractive to pollinating insects.
H. cylindrica prefers moist, fertile, well-drained soils. It prefers a neutral pH of soil. This plant will not tolerate water-logging.
Heuchera cylindrica requires little maintenance. Large clumps may be divided in autumn.