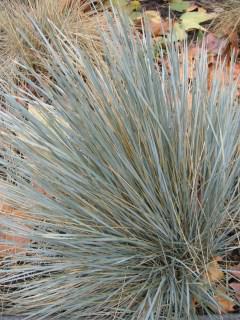 Helictotrichon sempervirens (03/12/2011, London)
Position: Full Sun
Flowering Period: Late spring to early summer
Soil: Well drained
Eventual Height: 0.6m
Eventual Spread: 0.6m
Hardiness: USDA 4a – 9b
Family: Poaceae
Helicotrichon sempervirens is a non-invasive perennial evergreen grass with a tufted growth habit, forming a neat mound. The blue, gray and silver  leaves of the plant are tightly rolled leaves and some what rigid. The oat like flower heads of this plant provide an upright spray of gray flowers which can grow up to 1.2m in height.
Helicotrichon sempervirens, commonly known as Blue Oat Grass, is native  to the central European grasslands.
The etymological root of the binomial name Helictotrichon is derived from the Greek helix 'spiral' and trichos 'hair'. Sempervirens is derived from the Latin semper 'always' and virere 'be green or verdant'.
The landscape architect may find Helicotrichon sempervirens useful as a low growing evergreen ground cover, particularly when planted en mass. It may also be useful as part of a prairie type planting scheme. It is drought tolerant once established.
The Royal Horticuktural Society has given H. sempervirens their prestigious Award of Garden Merit in 1993.
H. sempervirens prefers most well drained soil which is moist and well drained. It prefers alkaline to  neutral soils and dislikes heavy clay.
H. sempervirens requires little maintenance. Dead flowering stems may be removed in late winter.