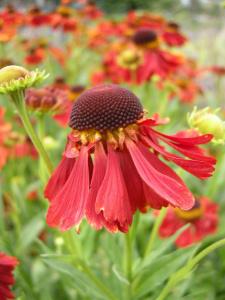 Helenium 'Moerheim Beauty' flower (09/06/2011, London)
Position: Flourishes in full sun.
Soil: Moist and well drained.
Flowering period: Early to late summer.
Eventual Height: 90cm
Eventual Spread:  60cm
Hardiness: USDA Zone 4a-8b
Family: Asteraceae
Helenium 'Moerheim Beauty' is a deciduous perennial with an upright habit. Its foliage is simple, mid green and borne alternately on the upright flowering stems. The inflorescence is in the form of dark, copper-red ray-florets and dark brown disk-florets.
H. 'Moerheim Beauty' commonly known as Sneezeweed 'Moerheim Beauty' was selected in the 1930s by Wilhelmina Jacoba Moussault-Ruys (1904-1999), a Dutch landscape architect better known as Mien Ruys.
Helenium was named for Helen of Troy; in ancient mythology it was said that she was collecting it when she was abducted or occasionally that it sprang forth from her tears; a popular motif in Greek mythology. 'Moerheim Beauty' was named after the Moerheim Nursery, founded by Ruy's father in 1888.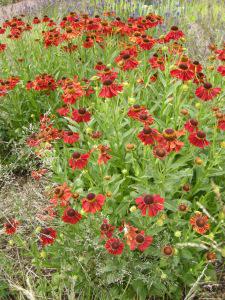 Helenium 'Moerheim Beauty' (09/06/2011, London)
This plant may be useful to the landscape architect as part of a prairie type planting scheme or as part of a cottage garden style scheme. The plant is also drought tolerant.
The Royal Horticultural Society have given it their prestigious Award of Garden Merit.
This plant will tolerate almost any soil conditions; it will be happy in acid, neutral or alkaline pH levels, in loam, sand, chalk or clay based soils in a sheltered or exposed location facing any aspect.
Ecologically this plant will attract pollinating insects such as butterflies and honey bees and the larvae of some species of Lepidoptera will feed on its foliage.
Maintenance: Requires little to no maintenance, this plant may be deadheaded to prolong flowering. This plant may divided every two or three years in spring to increase numbers.