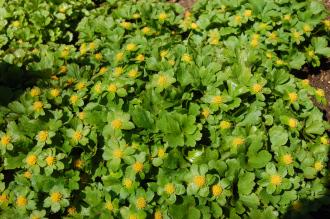 Hacquetia epipactis (21/04/2013, Kew Gardens, London)
Position: Dappled shade to shade
Flowering period: Early spring
Soil: Moist, well drained
Eventual Height: 10cm
Eventual Spread: 30cm
Hardiness: 5a, 5b, 6a, 6b, 7a, 7b, 8a, 8b, 9a
Family: Apiaceae
Hacquetia epipactis is a low growing herbaceous perennial with a clump forming habit. Its mid green glossy leaves are orbicular with serrate margins, up to 6cm long and 3cm broad. Its yellow flowers are dense spherical umbels, up to 4cm across and appear just before the leave. Its roots are rhizomes which aids its spread.
Hacquetia epipactis, commonly known as , is native to central Europe. In its native habitat it grows in moist shady woodland settings. This plant is the only species within this genus.
The etymological root of the binomial name Hacquetia is named after Balthasar Hacquet (1735 – 1815), an Austrian physician and botanist. Epipactis is derived from the Greek epipaktis, a name used by Theophrastus.
The landscape architect may find Hacquetia epipactis useful as an effective ground cover in a woodland or shady setting.
Ecologically, Hacquetia epipactis flowers are attractive to pollination insects.
The Royal Horticultural Society has given Hacquetia epipactis their prestigious Award of Garden Merit in 1993.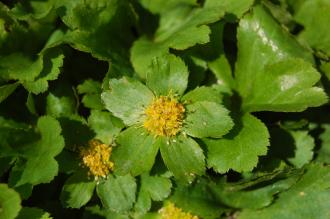 Hacquetia epipactis Flower (21/04/2013, Kew Gardens, London)
Hacquetia epipactis prefers moist, fertile, humus rich, well-drained soils. It tolerates most pH of soil.
Hacquetia epipactis requires little maintenance. Large clumps may be divided in early autumn or spring.