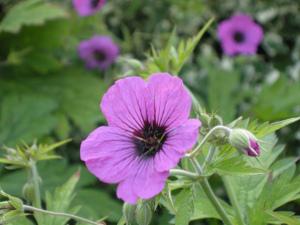 Geranium psilostemon flower (24/07/2011, London)
Position: Full sun to partial shade
Soil: Moist, well drained soil
Flowering period: Summer
Eventual Height: 1.2m
Eventual Spread: 1.2m
Hardiness: USDA Zone 4a-9b
Family: Geraniaceae
Geranium psilostemon is a deciduous herbaceous perennial with a clump forming habit. Its foliage is mid green, broad and deeply lobed. Its leaves then turn fiery red during autumn before dying. Its flowers, borne singly in midsummer are cup-shaped and magenta in colour with black centres.
G. psilostemon, occasionally listed as G. armenum and commonly known as Armenian Cranesbill, is native to Eastern Europe and certain areas in Asia, including Turkey, Azerbaijan, Georgia and parts of Russia. G. psilostemon was introduced into cultivation in Britain in 1874.
Geranium is derived from the Greek geranos, meaning 'crane'; referring to the beak-like fruit, with psilostemon being derived from the Latin, alluding to its smooth stamens.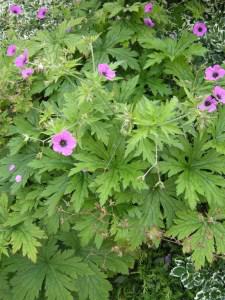 Geranium psilostemon (24/07/2011, London)
The landscape architect may find this plant useful as an effective low maintenance ground cover, for areas in both full sun and partial shade. Consideration should be given to its deciduous nature. This plant is useful when attempting to attract wildlife to a scheme.
The Royal Horticultural Society gave this plant their prestigious Award of Garden Merit in 1993.
This plant will tolerate almost any soil conditions; it will be happy at neutral, alkaline or acid pH levels, in loam, sand, chalk or clay based soils, facing any sheltered or exposed aspect.
Ecologically this plant will attract many species of pollinating insects such as honey bees and butterflies. The foliage is also attractive as food for terrestrial gastropods.
Maintenance: This plant requires little to no maintenance. Flowered stems and old foliage may be removed to encourage new growth. Large clumps may be lifted and divided in spring.