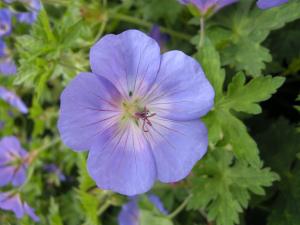 Geranium 'Johnsons Blue' flower (09/06/2011, London)
Position: Flourishes in full sun to partial shade and will tolerate full shade.
Soil: Moist and well drained.
Flowering period: Summer.
Eventual Height: 45cm
Eventual Spread:  75cm
Hardiness: USDA Zone 3a-8b
Family: Geraniaceae
Geranium 'Johnson's Blue is a deciduous perennial with a spreading habit although in our temperate climate it may retain some foliage throughout the winter. It will spread by rhizomes, as the flowers will not produce viable seed. Its foliage is basal, mid green, with each leaf having seven lobes, which are themselves lobed with a serrate margin. In summer it will bear loose cymes of saucer shaped lavender blue flowers, which are tinged pink at their centres.
G. 'Johnson's Blue' is known in some botanical circles as G. himalayense x pratense, but since this is one of the oldest Geranium crosses and it hybridises so easily this provenance is questionable.  The Geranium, which is commonly known as Cranesbill was first introduced to the British Isles in the 16th century.
Geranium is derived from the Greek geranos, meaning 'crane'; referring to the beak-like fruit.
Geranium 'Johnsons Blue' (09/06/2011, London)
This plant may be useful to the landscape architect as a free flowering semi deciduous ground cover plant. It is appropriate for prairie type or cottage garden style planting schemes. It will also tolerate dry shade and short periods of drought.
The Royal Horticultural Society have given it their prestigious Award of Garden Merit.
This plant will tolerate almost any soil conditions; it will be happy in acid, neutral or alkaline pH levels, in loam, sand, chalk or clay based soils in a sheltered or exposed location facing any aspect.
Ecologically this plant will attract pollinating insects such as butterflies and honey bees and the larvae of some species of Lepidoptera will feed on its foliage.
Maintenance: Requires little to no maintenance, Flowered stems and old leaves may be removed to encourage new growth. This plant may be divided in spring or autumn to increase numbers.