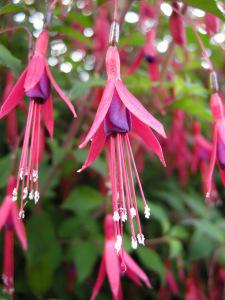 Fuchsia magellanica flower (11/06/2011, London)
Position: Flourishes in full sun to partial shade.
Soil: Moist and well drained.
Flowering period: Mid summer to autumn.
Eventual Height: 3m
Eventual Spread: 2m
Hardiness: USDA Zone 6a-9b
Family: Onagraceae
Fuchsia magellanica is a deciduous shrub with a bushy habit. Its foliage is mid green, simple, lanceolate with  serrate margin. Its flowers are pendulous and monoecious with red sepals and purple petals. Small black fruits follow these. In colder areas of the UK this plant may die back to ground level in winter, in milder a woody framework will remain.
F. magellanica, occasionally commonly known as Lady's Eardrops, is native to Southern Argentina and Chile but has been widely naturalised in areas of the UK and Ireland. It can be used in the production of a black dye.
Fuchsia was  named for Leonard Fuchs, a 16th century German botanist, with magellanica  meaning of or from the Magellan Straits area, in Chile.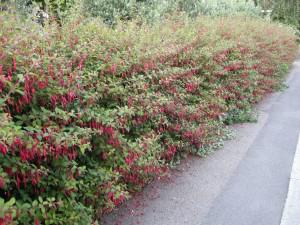 Fuchsia magellanica hedge (11/06/2011, London)
The Landscape architect may find this plant useful as an informal hedge in milder areas of the UK and Ireland. It is also useful in shady conditions and/ or maritime locations.
The Royal Horticultural Society have given the variety F. magellanica var. gracilis and cultivar F. magellanica var. gracilis 'Variegata'  their prestigious Award of Garden Merit.
Ecologically this plant will attract pollinating insects such as butterflies and honey bees.
This plant will tolerate many soil conditions; it will be happy in acid, neutral or alkaline pH levels, in loam or clay based soils in a sheltered  location facing any aspect except north.
Maintenance: Requires little to no maintenance. May be trimmed in early spring to encourage flowering.