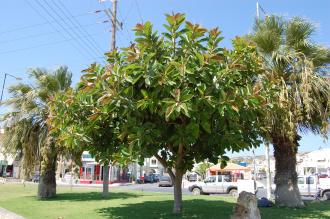 Ficus elastica (24/08/2013, Sitia, Crete, Greece)
Position: Full sun   
Soil: Moist, well drained
Flowering period: N/A
Eventual Height: 40m
Eventual Spread:  30m
Hardiness: 10a, 10b, 11, 12, 13
Family: Moraceae
Ficus elastica is an evergreen tree with a spreading habit. Its dark green glossy leaves are ovate with a pointed tip and entire margins, up to 40cm long an 15cm broad. Its trunk may achieve a diameter of up to 2m. The gray brown bark is finely fissured. Its branches form aerial roots in warm humid climates, where these touch the ground they grow.  Its flowers are insignificant. Its yellow fruit is a spherical berry and up to 1cm across.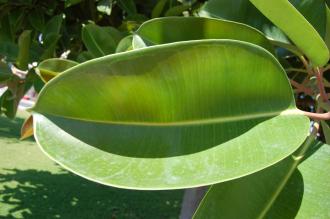 Ficus elastica Leaf (24/08/2013, Sitia, Crete, Greece)
Ficus elastica, commonly known as Rubber Fig, Rubber Tree, Rubber Plant or Indian Rubber Bush, is native to the north east Indian region, Burma, south China and south East Asia. The latex sap of this tree was formally used to make rubber.
The etymological root of the binomial name Ficus is from the Latin name for the edible fig. Elastica is from the Latin meaning 'elastic', in reference to this plant's latex sap.

Ficus elastica may be useful to the landscape architect as a large evergreen tree. Once established this tree is drought tolerant. Care should be taken when locating this plant as its latex sap is an irritant to skin and eyes.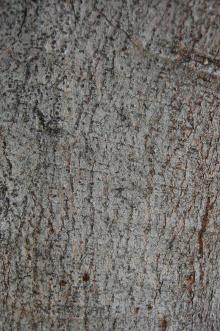 Ficus elastica Bark (24/08/2013, Sitia, Crete, Greece)
Ecologically, Ficus elastica fruit are attractive to some birds.
Ficus elastica prefers moist, fertile, well-drained soils. It tolerates most pH of soil.
Ficus elastica requires little maintenance.