Position: Flourishes in full sun to partial shade.
Soil: Moist but well drained.
Flowering period: Early summer.
Eventual Height: 20m
Eventual Spread: 10m
Hardiness: USDA Zone 7b-11a
Family: Arecaceae
Fagus sylvatica f. purpurea is a deciduous tree with a spreading habit. It has elliptic-ovate, wavy margined leaves that are silky when young maturing to a glossy purple. On the juvenile tree (and juvenile parts of a mature tree) the leaves will turn a golden brown and remain on the tree throughout  the winter months. The flower is in the form of catkins being produced after the leaves have emerged. Flowers of this monoecious tree will not be produced until the plant is mature. Following on from the flowers, maturing in the autumn,  are the beach nut pods, producing two triangular nuts to each pod.
Native to much of Europe including Southern England, Fagus sylvatica has historically had many uses; its wood is good for burning as well as for making drums. The beach nuts were also eaten, but care should be taken if you intend to try them as they can be harmful in large quantities due to the quantities of tannins contained within the nut.
Fagus is the old Latin name for the Beech tree, some scholars believe it to be derived from the Greek phago meaning 'to eat', as the nuts were a historic source of food. Sylvatica is also derived from the Latin meaning ' of the woods'. f. is shorthand for forma with purpurea being in reference to its dark purple leaves.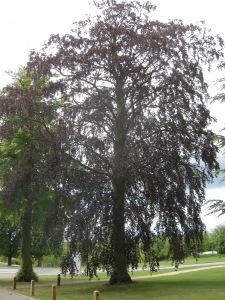 Fagus sylvatica f. purpurea (12/05/2011, Cambridge)
The landscape architect may find this plant is useful as a beautiful specimen tree  Despite being deciduous this tree forms an attractive hedge, as juvenile growth will retain its golden brown leaves in the winter months to continue act as a screen. The regular pruning of a Beach hedge will ensure the tree remains juvenile and as a consequence retains its leave during the winter months.
This plant is happy at most pH levels and the soil may be chalk, clay, loam or sand. It may be placed in a sheltered or exposed location but will not thrive in a north facing position.
Ecologically this plant will cater for the larvae of some species of Lepidoptera. Birds and other animals will eat its fruit/ nuts and occasionally inhabit its canopy.
The Royal Horticultural Society have given it their prestigious Award of Garden Merit.
Maintenance: Hedge maintenance as well as the removal of dead and damaged material should be carried out in July.