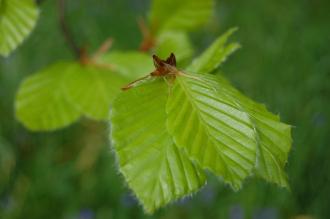 Fagus sylvatica Leaf (05/05/2012, Kew, London)
Position: Sun to  dappled shade
Flowering period: Spring to summer
Soil: Moist, well drained
Eventual Height: 35m
Eventual Spread: 20m
Hardiness: 6a – 10b
Family:  Fagaceae
Fagus sylvatica is a long lived, large, deciduous tree. Its mid green green leaves are alternate, simple, elliptic, sparsely toothed and entire with a slightly crenate, wavy margin, up to 10cm long and 7cm broad. The leaves turn a copper color in the autumn. The juvenile leaves of this tree remain on the tree during the winter months. Its trunk may achieve a diameter of up to 1.5m. Its bark is silver/ gray in colour, smoothly textured with a wrinkled appearance. Its flowers are monoecious and insignificant, it begins to flower when it is at least 30 years old. Its fruit is a triangular nut, enclosed in a spiky involucre, which is 4 lobed usually containing 4 nuts and is usually found singly on erect pedicels. The roots of this tree are shallow. This tree may live for up to 250 years.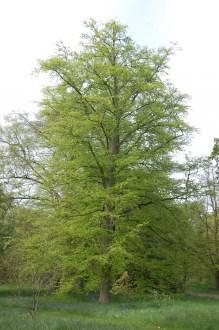 Fagus sylvatica (05/05/2012, Kew, London)
Fagus sylvatica, commonly known as European Beech or Common Beech, is native to Central and Western Europe (including Southern England). Although often regarded as a native in southern England, recent evidence suggests that it did not arrive in England until 4000 BC.
The etymological root of the binomial name Fagus is derived from the old Latin for a 'Beech Tree', some authorities deriving the word from Greek phago meaning 'to eat', reference to the seeds being edible. Sylvatica is derived from the Latin silva 'forest', in reference to this tree being a common forest tree.
The landscape architect may find Fagus sylvatica useful as an attractive specimen tree where space allows. It also makes a good hedging plant, particularly in shady locations.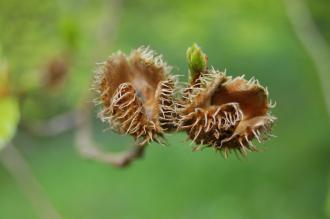 Fagus sylvatica Seed Case (05/05/2012, Kew, London)
Ecologically,  F. sylvatica will cater for the larvae of some species of Lepidoptera. Birds and other animals will eat its nuts and may inhabit its canopy.
The Royal Horticultural Society has given F. sylvatica their prestigious Award of Garden Merit in 1993.
F. sylvatica prefers moist, fertile, well-drained soils. It prefers soils of a neutral to alkali soil pH. It will not tolerate dry or regularly flooded soils.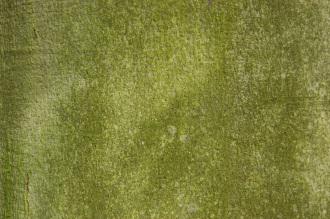 Fagus sylvatica Trunk (05/05/2012, Kew, London)
F. sylvatica requires little maintenance. Puning should be carried out in July. If maintained as a hedge is should be cut twice a year in July and late summer, this will ensure it retains its leaves during the winter months.