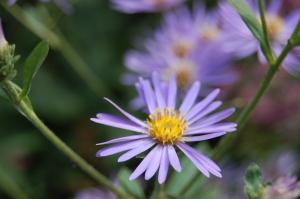 Eurybia macrophyllus 'Twilight' flower (17/09/2011, London)
Position: Full sun to shade
Flowering period: Late Summer to autumn
Soil: Well drained soils 
Eventual Height: 0.75m
Eventual Spread: 0.6m
Hardiness: USDA Zones 3a-8a
Family: Asteraceae
Eurybia macrophyllus 'Twilight' is a deciduous herbaceous perennial that grows up to 0.75m in height with a dense spreading habit and a richly textured foliage. Its leaves are heart shaped and they turn a mauve colour in autumn. The hermaphrodite flowers appear in late summer to early autumn displaying ray florets that are deep lavender in colour with a yellow centre. The flowers are borne on hairy stems rising above the heart shaped foliage. This plant is spread by underground rhizomes.
E. macrophyllus, commonly known as the Bigleaf Aster, Largeleaf Aster or Bigleaf Wood Aster,was formally known as Aster macrophyllus. It is native to eastern North America. The plant has also naturalise outside of its native range in northern Europe. It can cope with elevations up to 1300 metres in moist and dry conditions. It reside in forests, along shaded roadsides, thickets and clearings. The leaves of this plant can be cooked and eaten as greens. It is said that Native Indians used the dried leaves in lieu for tobacco and as a cure for headaches. Eurybia macrophyllus 'Twilight' is synonymus with Eurybia X herveyi which was formally known as Aster X herveyi.
The name Eurybia is derived from the name for the Greek goddess 'Eurybia' who presided over the rise of the constellations, seasonal weather and the power of the winds . Macrophyllus is derived from the Latin macro term meaning 'large', with phyllus meaning 'leaf'.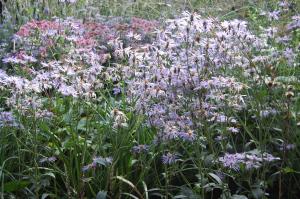 Eurybia macrophyllus 'Twilight' (17/09/2011, London)
The landscape architect may find this plant useful as an effective groundcover due to its spreading, clump forming habit. It would also be of use in shady locations including woodland planting schemes.
Ecologically this plant is attractive to bees, birds, moths and butterflies.
This plant prefers soil with a PH of 5.1 to 6.5. It can tolerate acidic, basic and neutral soils. It will tolerate both moist and dry soils.
Maintenance: This plant requires little maintenance. Large clumps of this plant may be divided in spring or autumn.