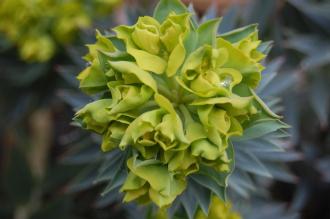 Euphorbia pontica detail (18/02/2012, Kew, London)
Position: Sun to partial shade
Flowering period: Late winter to early spring
Soil: Moist, well drained
Eventual Height: 20 cm
Eventual Spread: 60 cm
Hardiness: 5b – 8b
Family: Euphorbiaceae
Euphorbia pontica is a low growing spreading evergreen perennial. Its leaves are gray green in colour, fleshy, up to 2cm long and terminate in a top whorl. The flowers are inconspicious and are surrounded by sulfur yellow bracts, arranged in clusters. Each bract is a cup shaped structure with crescent shaped glands and contains one female flower and several male flowers, the male flower has one stamen and the female flower a single 3 lobed ovary with 3 styles which are forked. The fruit is a small capsule, up to 5mm across, which splits to release 3 smooth seeds. 
Euphorbia pontica, commonly known as Black Sea Spurge, is native to the area to the south of the Black Sea. The milky sap of this plant may cause skin irritation.
The etymological root of the binomial name Euphorbia is named after Euphorbus, physician to Juba, a king of Mauritania. Pontica is derived from the Latin meaning 'of Pontus', the area to the south of the Black Sea.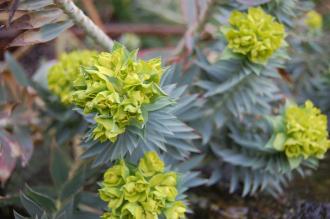 Euphorbia pontica (18/02/2012, Kew, London)
The landscape architect may find Euphorbia pontica useful as a low ground cover evergreen perennial, particularly in shady location. This plant is drought tolerant once established
Ecologically, Euphorbia pontica is attractive to pollinating insects.
E. pontica prefers moist, well-drained soils. It tolerates most pH of soil.
E. pontica requires little maintenance.
Advertisement