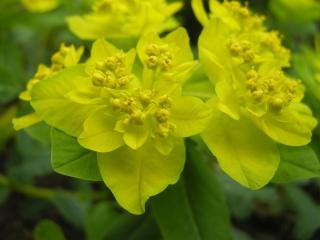 Euphorbia polychroma Flower (07/04/2012, London)
Position: Full sun to partial shade
Flowering period: Spring
Soil: Moist, well drained
Eventual Height: 50cm
Eventual Spread: 70cm
Hardiness: 4a – 9b
Family: Euphorbiaceae
Euphorbia polychroma is a low growing, mound forming herbaceous perennial. Its dark green leaves are linear with an entire margin, alternate , appearing in whorls. Its stems exude a milky sap when cut. Its acid yellow flowers appear above the leaves, they are borne in cymes which give rise to bright sulfur yellow bracts . Its fruits are a three compartment capsules, sometimes fleshy but almost always ripening to a woody container which then split openly.
Euphorbia polychroma, commonly known as Cushion Spurge, is native to south east Europe and Turkey. In its native habitat it grows in rocky hillsides and dry woodlands.
The etymological root of the binomial name Euphorbia derives from Euphorbus, after the name of the Greek physician of King Juba II of Numidia. Polychroma is derived from the Greek polu 'many' and xrwma 'colour'.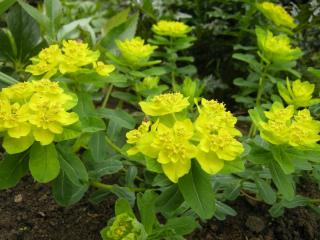 Euphorbia polychroma (07/04/2012, London)
The landscape architect may find Euphorbia polychroma useful as a low growing herbaceous plant to add a splash of color to a scheme. Once established this plant is drought tolerant. Care should be taken when locating this plant as its sap may cause skin irritation in some people.
Ecologically, E. polychroma is attractive to pollinating insects during the spring.
The Royal Horticultural Society has given E. polychroma their prestigious Award of Garden Merit in 1993.
E. polychroma prefers moist, fertile, well-drained soils. It tolerates most pH of soil. It will not tolerate poor drainage.
E. polychroma requires little maintenance. Large clumps may be divided in spring.