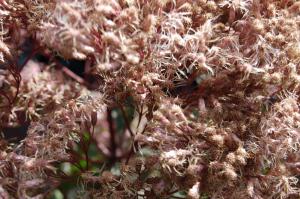 Eupatorium maculatum 'Riesenschirm' flower (17/09/2011, London)
Position: Full sun to partial shade
Flowering period: Summer to autumn
Soil: Moist
Eventual Height: 2m
Eventual Spread: 2m
Hardiness: USDA Zones 5a-10b
Eupatorium maculatum 'Riesenschirm' is a perennial deciduous clump forming plant growing up to 2m in height. The dark green leaves of the plant are oval in shape and have a whorled effect. The thick erect stems of the plant are purplish in colour and give rise to the flowers. The hermaphrodite flowers of the plant are borne in the form of terminal clusters which are 20cm across. These are comprised of small, tubular, deep rose-purple flowers in mid to late summer. The flowers then become seed-heads, which are quite fluffy in appearance. The variety 'Riesenschirm' has particularly large flower heads.
E. maculatum 'Riesenschirm', commonly known as Spotted Joe Pye Weed or Sweet Joe Pye Weed, is native to North America. The plant genus Eupatorium is named for the King of Pontus, the Mithridates Eupator, in Northern Turkey in around 120-63 BC. The King is said to have discovered an antidote to a commonly used poison in one of the species. The stems of the plant have been used as straws and it is also said to have been used as a tonic for pregnant women. It is a plant that thrives in wetlands and is commonly found in swamps, fens, ditches and seepage areas. It flourishes in non shaded environments that are so abundant in wetlands.
The name Eupatorium is derived from the Greek name for the King of Pontus, Mithridates VI Eupator. The term maculatum is derived from the Latin meaning spotted.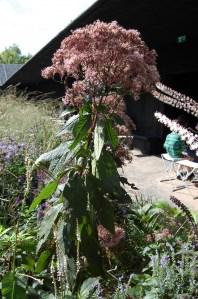 Eupatorium maculatum 'Riesenschirm' (17/09/2011, London)
This plant is useful to the landscape architect in community gardens and wildlife planting schemes. It can also provide dramatic accents to areas of herbaceous planting. Finally it is suitable for Sustainable Urban Drainage Schemes including ditches and banks of ponds and lakes.
Ecologically this plant is a food source for bees and butterflies. It is much favored for wildlife planting.
The Royal Horticultural Society has given the species of this plant their prestigious Award of Garden Merit in 2006.
This plant does well in most soils, but prefers moist to almost waterlogged soils. The soils can range from acid to chalky soils.
Maintenance: This plant requires little to no maintenance. The stems may be cut back in early spring as the seed heads add an element of interest during the winter months. Unwanted seedlings may be removed when they appear.