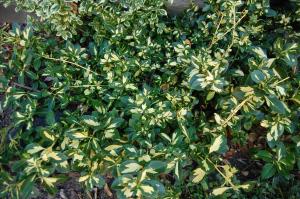 Euonymus fortunei 'Sunspot' (15/10/2011, London)
Position: Full sun to partial shade
Flowering period: Summer
Soil: Well drained
Eventual Height: 50cm
Eventual Spread: 1m
Hardiness: USDA Zones 5a-7b
Family: Celastraceae
Euonymus fortunei 'Sunspot' is a variegated multi-stemmed, evergreen shrub. It has a rounded habit with variegated green-gold foliage and a wide-spreading habit. The stems of this plant may form clinging tendrils which enable it to climb structures. Its leaves are large and irregular with a bright golden blotch at their centre. They are arranged in opposite pairs, elliptic to elliptic ovate, 2-6cm long and 1-3 cm broad, with a finely serrated margin. The flowers are inconspicuous, 5 mm in diameter, with four small greenish yellow petals. The fruit is a 4 lobed green pod like berry, which splits open to reveal the fleshy coated orange seeds, one seed in each lobe. 
E. fortunei 'Sunspot', commonly known as Spindle Sunspot, Wintercreeper or Goldspot, is native to east Asia, including China, Korea, Philippines and Japan. It is widely cultivated as an ornamental plant. The plant can cope with elevations up to 3400 metres. Euonymus fortunei is considered an invasive species in some parts of eastern United States and Canada
The etymology of the binomial name Euonymus is derived from the name 'Euonyme', the mother of the Furies in Greek mythology who were the infernal avenging goddesses of the underworld. Fortunei is derived from the Fortune surname of Robert Fortune the plant explorer . 
The landscape architect may find Euonymus fortunei 'Sunspot' useful as an effective evergreen ground cover. It is suitable for dry soils, shady locations, maritime locations and can tolerate urban pollution.
Ecologically this plant will attract insects of many types.
E. fortunei can tolerate most soils, and is highly adaptable to both dry and moist locations. It will tolerate all pH of soil.
Maintenance: This plant requires little maintenance. It may be pruned at anytime.