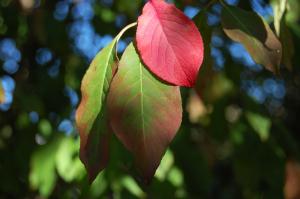 Euonymus europaeus leaf (15/10/2011, London)
Position: Full sun to dappled shade 
Flowering period: Spring to early summer
Soil: Well drained
Eventual Height: 6m
Eventual Spread: 4m
Hardiness: USDA Zones 5a-8b
Family: Celastraceae
Euonymus europaeus is a deciduous shrub or small tree with a bushy habit. The leaves are opposite, and are lanceolate to elliptical, approximately 3 to 8 cm long and 1 to 3 cm broad, with a finely serrated edge. The mid green leaves turn yellow and bright red in autumn. The green stem of this plant will grow up to 20cm in diameter. The hermaphrodite flowers are produced in late spring. They are inconspicuous, small, yellowish-green and grown in cymes of 3 to 8 together. The capsular fruit ripens in autumn, and is red to purple or pink in color and approximately 1 – 1.5 cm wide. When ripe the four lobes split open to reveal the orange seeds.
Euonymus europaeus, commonly known as Spindle, European Spindle and Common Spindle, is native to much of Europe, including the UK. The Spindle is often found as part of a hedge row and in copses openings. The seeds and other parts of the plant are quite poisonous. William Turner is known as the Father of Botany and he gave the name spindle tree to this plant because he said he cannot find an English name for it so the Dutch name, Spilboome, may as well be used.
The etymological root of the binomial name for Euonymus is derived from the Greek eu meaning 'good' and onoma, the name given by the ancient Greeks for the Euonymus genus. Europaeus is derived from the Greek meaning 'of Europe'.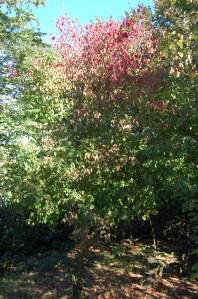 Euonymus europaeus (15/10/2011, London)
The landscape architect may use Euonymus europaeus as part of a native woodland planting scheme, it will form part of the initial canopy, eventually becoming part of the understory planting, thriving at the edges and copse openings. It may also be specified as part of a native hedge mix.
Ecologically the flowers of this plant are attractive to bees and flies, the seeds are attractive to some bird and the leaves are the food of the Holly Blue Butterfly.
E. europaeus thrives nutrient rich, well-drained chalky soils. It will tolerate most pH of soil.
Maintenance: This plant requires little maintenance. When maintained as part of a hedge it will be cut once or twice a year.