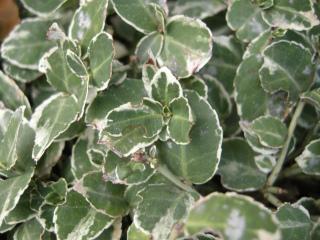 Euonymus fortunei 'Silver Queen' detail (10/11/2011, London)
Position: Full Sun to Partial Shade
Flowering period: Summer
Soil: Well-drained
Eventual Height: 1.5m
Eventual Spread: 1.0m
Hardiness: USDA Zones 4b – 9b
Family: Celastraceae
Euonymus fortunei 'Silver Queen' is a slow growing evergreen shrub with a bushy growth habit. The dark green, ovate leaves are margined with white and occasionally pink in the winter months. These have serrated margins and are 2 – 6 cm long and are 1 – 3 cm broad. The flowers are inconspicuous and are 5 millimeters in diameter, with four small greenish-yellow petals. The fruit is a four-lobed pale green to orange/ pink pod-like berry.
E. fortunei 'Silver Queen', commonly known as Wintercreeper, is native to east Asia, including China, Korea, Philippines and Japan. This species is widely cultivated as an ornamental plant, with numerous cultivars selected for such traits as yellow, variegated and slow, dwarfed growth. It is said to have been introduced into the United Kingdom around 1914.
The etymological root of the binomial name Euonymus is derived from the Greek eu 'good' and onoma 'name'. Fortunei is derived from the name of Robert Fortune, the Scottish botanist and traveler best known for introducing tea plants from China to India, back in the 19th century.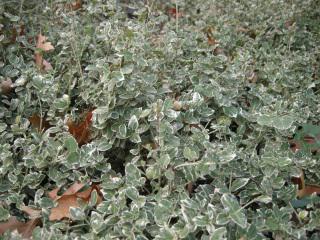 Euonymus fortunei 'Silver Queen' (10/11/2011, London)
The landscape architect may this plant useful as an attractive, effective ground cover plant, particularly in shady locations. It is tolerant of maritime and drought conditions.
Ecologically this plant is attractive to bees, butterflies and birds.
Euonymuns fortunei 'Silver Queen' prefers a light, well-drained soil. It will tolerate most pH of soils. Tolerates heavy clay soils.
Maintenance: This plant requires little maintenance. Any plain green reverted stems may be removed whenever seen.