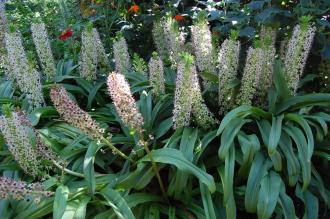 Eucomis comosa (08/09/2012, Kew Gardens, London)
Position: Full sun
Flowering period: Late summer to early autumn
Soil: Moist, well drained
Eventual Height: 75cm
Eventual Spread: 40cm
Hardiness: 6b – 9a
Family: Asparagaceae
Eucomis comosa is a perennial herbaceous bulb. Its mid green leaves are strap shaped, have wavy margins and are arranged as a basal rosette and are up to 60cm long. Its white/ green flowers star shaped and arranged as a dense raceme terminally on an erect stem. A crown of leafy bracts are located above the flowers.
Eucomis comosa, commonly known as the Pineapple Flower, Pineapple Lily or Wine Eucomis, is native to South Africa. Eucomis comosa is synonymous with Asphodelus comosus and Eucomis punctata.
The etymological root of the binomial name Eucomis is derived from the Latin eu meaning 'good' and comosa meaning 'having many leaves'. Comosa is from the Latin meaning 'having many leaves'.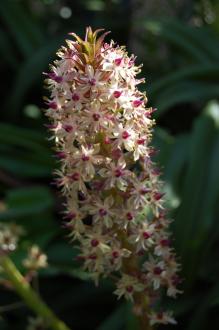 Eucomis comosa Flower (08/09/2012, Kew Gardens, London)
The landscape architect may find Eucomis comosa useful in a tropical style planting scheme. Its leaves are late to emerge, usually in June.
Ecologically, Eucomis comosa is attractive to pollinating insects.
Eucomis comosa prefers moist, fertile, humus rich, well-drained soils. It tolerates most pH of soil.
Eucomis comosa requires little maintenance.