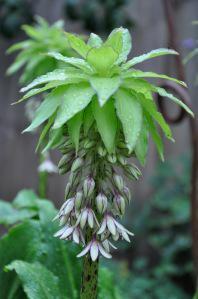 Eucomis bicolor flower (16/07/2011, London)
Position: Full sun 
Soil: Well drained soil
Flowering period: Summer
Eventual Height: 50cm
Eventual Spread: 60cm
Hardiness: USDA Zone 8a-10b
Family: Asparagaceae
Eucomis bicolour is a deciduous, summer flowering, perennial bulb with a semi-erect, tufted habit. Wavy-margined, basal, strap-shaped leaves emerge in a rosette around an often purple-spotted erect stem. This stem bears a dense raceme composed of pale green, star shaped, purple edged flowers, which is topped by a cluster of leaf like bracts.
E. bicolor, commonly known as the Two-coloured Pineapple Lily, is native to South Africa and is usually found growing at higher altitudes than other wasp pollinated species of Eucomis.
Eucomis is derived from the Greek, meaning 'a pleasing tuft of hair', with bicolour being derived from the Latin meaning 'of two colours'.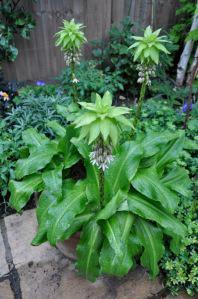 Eucomis bicolor (16/07/2011, London)
The landscape architect may find this plant useful as a low maintenance and relatively frost tolerant plant that can appear tropical in our temperate climate.
The Royal Horticultural society gave this plant their prestigious Award of Garden Merit in 2002.
This plant will tolerate almost any soil conditions; it will be happy at neutral, acid or alkaline pH levels, in loam, chalk or sand based soils in a sheltered, south, east or west facing aspect. The RHS recommends that it should be moved to a sheltered location during the winter months when grown in colder parts of the UK, this may be easier don if grown in pots.
Ecologically this plant is pollinated by members of the Sarcophagidae family of insects, which are attracted to the sulphurous compounds released by the flowers.
Maintenance: This plant requires no maintenance. Dead leaves may be removed in autumn or if the bulbs are being dried out overwinter, the leaves and flower heads may be cut back once they become untidy.