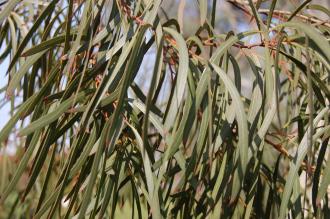 Eucalyptus pulchella Leaf (07/03/2012, Kew, London)
Position: Full sun
Flowering period: Late summer
Soil: Moist, well drained
Eventual Height: 20m
Eventual Spread: 9m
Hardiness: 8a – 11
Family: Myrtaceae
Eucalyptus pulchella is a small/ medium sized, evergreen, upright tree with an open canopy and a weeping habit. Its grey/ green leaves are simple, linear to lanceolate with entire margins and opposite. Its branches pendulous giving the tree a weeping habit and its trunk may achieve a diameter of 80cm. Its bark peels off in strips revealing smooth, pale white/ yellow bark below. Its profuse cream/ white flowers are up to 1.5cm broad with a menthol fragrance and arranged in umbels. Its fruit are poricidal capsules.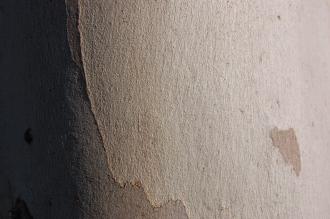 Eucalyptus pulchella Bark (07/03/2012, Kew, London)
Eucalyptus pulchella, commonly known as the White Peppermint, is native to Tasmania. It was first described as Eucalyptus pulchella in 1829 by Rene Louiche Desfontaines, it was then named Eucalyptus linearis by Frederick Dehnhardt in 1832, however Eucalyptus pulchella is considered be correct.
The etymological root of the binomial name Eucalyptus is derived from the Greek eu 'good' and kalyptos 'covered' referring to the calyx which forms a lid over the flowers when in bud. Pulchella is derived from the Latin pulcher 'pretty'.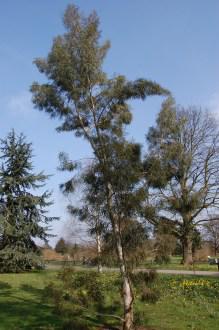 Eucalyptus pulchella (07/03/2012, Kew, London)
The landscape architect may find Eucalyptus pulchella useful as an evergreen specimen tree with a light canopy. Once established this tree is drought tolerant.
Ecologically, E. pulchella is attractive to bees.
E. pulchella prefers moist, well-drained soils. It tolerates most pH of soil, although it prefers acid to neutral soils.
E. pulchella requires little maintenance.