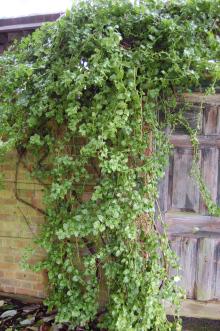 Ercilla volubilis (23/03/2103, Kew Gardens, London)
Position: Full sun to shade
Flowering period: Late spring
Soil: Moist, well drained
Eventual Height: 8m
Eventual Spread: 5m
Hardiness: 7a, 7b, 8a, 8b, 9a, 9b, 10a
Family: Phytolaccaceae
Ercilla volubilis is an evergreen climber with a clinging habit. Its mid green glossy leaves are ovate with entire margins, up to 4cm long and 3cm broad. Its stems produce tendrils which weekly adhere to suitable structures and surfaces via adhesive disks. Its pink flowers appear as short cylindrical spikes, are up to 4cm long and arranged along the length of the branch tips. Its red/ purple fruit are berries.
Ercilla volubilis is native to the south of Chile. In its native habitat it grows at woodland edges and thickets.
The etymological root of the binomial name Ercilla is named after Alonso de Ercilla (1533 – 1594) a Spanish nobleman and poet. Volubilis is from the Latin meaning 'winding' or 'twisting'.
The landscape architect may find Ercilla volubilis useful as an attractive climber with pink flowers. It will require support despite having self clinging tendrils.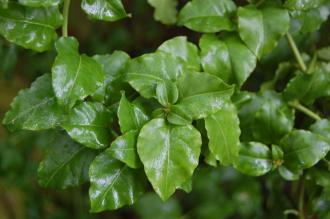 Ercilla volubilis Leaf (23/03/2103, Kew Gardens, London)
Ecologically, Ercilla volubilis flowers are attractive to pollinating insects.
Ercilla volubilis prefers moist, fertile, well-drained soils. It tolerates most pH of soil.
Ercilla volubilis requires little maintenance.