Elaeagnus x ebbingei flower (12/11/2011, Kew, London)
Position: Full Sun to Partial Shade
Flowering period: Autumn
Soil: Moist, well-drained
Eventual Height: 4m
Eventual Spread: 4m
Hardiness: USDA Zones 7a – 10b
Family: Elaeagnaceae
Elaeagnus x ebbingei is a large evergreen shrub with a dense, bushy, rounded growth habit. The leaves of the plant are speckled with tiny silver dots on the upper side and are silver gray underneath. The leaves are elliptic with a leathery texture and are about 10 centimeters in length. The hermaphrodite flowers of the plant are creamy white in colour, around 1 centimeter long, with a silver scaly appearance, and are quite fragrant. The stems of the plant have a bronzy color. The fruit is a fleshy orange drupe containing a single seed.
Elaeagnus x ebbingei, commonly known as the Russian Olive, Oleaster and Ebbinge's Silverberry. The vast majority of the Elaeagnus species are native to temperate and subtropical regions of Asia. E. x ebbingei is a garden hybrid, being a cross between Elaeagnus pungens and Elaeagnus macrophylla. It was introduced into the UK 1929. This plant will fix nitrogen in the soil.
The etymological root of the binomial name Elaeagnus is derived from the Greek elaia 'olive' and agnos 'pure' possibly referring to the fruit. Ebbingei is named after JWE Ebbinge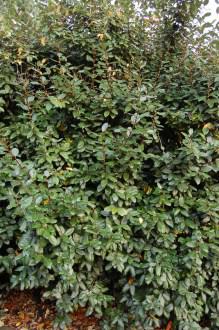 Elaeagnus x ebbingei (12/11/2011, Kew, London)
Elaeagnus x ebbingei is useful to the landscape architect as a fast growing screening shrub and provides valuable winter interest in the form of evergreen leaves and scented flowers . This plant is suitable for training as a hedge. It is suitable for maritime planting and tolerates harsh winds. Once established this plant is drought tolerant.
E. x ebbingei is ecologically valuable as  it is attractive to bees, birds and butterflies. 
The version E. ebbingei 'Gilt edge'  has been awarded the prestigious Royal Horticultural Societies annual Award of Garden Merit in 1993.
E. x ebbingei prefers well drained, fertile soils. It will tolerate most soil pH levels. It dislikes cold, waterlogged or alkali soils.
Maintenance: This plant requires little maintenance. If maintained as a hedge it should be clipped in spring to allow the winter flowers to develop.